Wreck Diving Essentials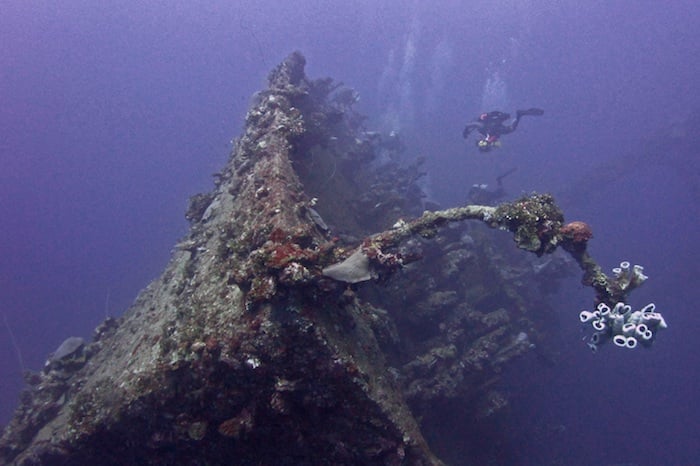 Wreck diving-exploring underwater structures - Photo courtesy of Thorfinn liveaboard, Truk Lagoon, Micronesia
WHAT IS WRECK DIVING?
Wreck diving is a type of recreational, and sometimes technical, diving used to explore the wreckage of ships, aircraft and other man-made structures. There are three main types of wreck diving; non-penetration, limited penetration and full penetration.
Non-penetration wreck diving involves diving around the outside of a wreck and is a great type of diving for those with limited wreck diving experience, and for people nervous of venturing inside a wreck. Some wrecks are non-penetration due to their small size, the wreck being fragmented, or the level of deterioration making them unsuitable for penetration.
Limited penetration wreck diving permits divers to swim through wreck areas with a low chance of entanglement or entrapment. The diver must remain inside the natural light zone created by the wreck entry area whilst exploring the wreck.
Full penetration wreck diving is the most advanced and adventurous type of wreck diving. Divers can penetrate to any level of the wreck, provided the structure is stable and the diver is both skilled and experienced enough to do the dive. Full penetration wreck diving can be likened to cave diving and sometimes involves decompression dives. It is a great way to fully explore a shipwreck, visit different rooms, and see personal items and equipment left behind.
WHY GO WRECK DIVING?
Wreck diving offers the opportunity to experience history first hand and learn about the incredible stories surrounding different wrecks. Divers can learn new dive skills when wreck diving and gain an increased awareness of their body positioning, buoyancy, and finning techniques whilst navigating wrecks.
Wreck diving allows divers to explore abundant marine life in concentrated areas, as wrecks are often colonised by corals, sponges, critters and schools of reef fish seeking shelter amongst wreck structures. This provides unique photographic opportunities of marine life and wreck structures combined. Propellers are a popular choice for wreck photography, as are engine rooms, and discarded World War artefacts. There is nothing quite like seeing tanks, aeroplanes and ships covered in colourful corals and transformed into pieces of living history.
WHERE TO GO WRECK DIVING
Some of the best places for wreck diving in the world offer the opportunity for divers to explore top wreck dives, abundant marine life, endless sunshine and clear blue waters.
BEST WRECK DIVING IN EGYPT
Egypt is a mecca for scuba diving and has great wreck diving opportunities for all types of diver. There is a year-round diving season, the water visibility is very good, and the marine life is both diverse and colourful.
The SS Thistlegorm is perhaps Egypt's most famous wreck and was sunk in 1941. It is over 121 meters (400 feet) in length and there is plenty to explore there. A typical dive day at this wreck will include diving the exterior and interior of the wreck. Divers can see motorbikes, trucks, guns and other cargo, surrounded by a vast array of marine life. Scuba diving on the Thistlegorm is possible for a wide range of diver experience levels.
The site of Abu Nuhas is known at the Ships Graveyard and is a submerged reef famous for its wrecks; the Giannis D, Chrisoula K, Kimon M and Rosalie Moller. It is also home to the oldest shipwreck accessible to divers in the Red Sea, the 1869 Carnatic.
There are plenty of liveaboard vessels to choose from in Egypt, but the Emperor Superior offers a Get Wrecked liveaboard itinerary specifically to explore the best of the northern Red Sea wrecks. The Emperor Elite has a Reefs and Wrecks itinerary, perfect for combining wreck diving with exploring the beautiful Red Sea reefs.
BEST WRECK DIVING IN MICRONESIA
Micronesia is known for its turquoise waters, paradise islands, and World War II wrecks. Truk (or Chuuk) Lagoon, an old Japanese naval base in World War II, has more than 48 wreck dive sites to explore and has consistently calm waters. The lagoon was attacked in 1944 by the United States during Operation Hailstone, during which more than 60 ships and 200 airplanes were sunk. The waters are now filled with historical artefacts and wrecks, covered in abundant coral and sponge growth. The wrecks are also visited by groupers, barracudas and turtles.
Scuba diving at Truk Lagoon offers something for every diver and a diverse range of wrecks. The Fujikawa and Sankisan Maru wrecks are popular, with options for technical and less experienced divers. The wrecks feature aeroplane fuselages, engines, ammunition, trucks and the opportunity to navigate through different wreck compartments. There are many wrecks to explore in the 18 to 40 meter (59 to 131 feet) depth range. The San Francisco Maru is a popular choice in the 40 to 60 meter (131 to 196 feet) depth range and contains mines, bombs, tanks and trucks. The Shinkoku Maru is a particularly good night dive.
Palau also has plenty to offer for wreck diving. The Jake Seaplane is a popular wreck, as is the famous Iro Maru. This large freighter was sunk in 1944, sits upright, and hosts a diverse array of marine life. Structures, such as guns and king posts, can still be seen and it is a great dive for corals, macro life and reef fish. Wreck penetration is possible for suitably experienced divers and the wreck is visited by Micronesia liveaboards.
The SS Thorfinn is geared up for technical divers and offers technical wreck diving packages in Micronesia.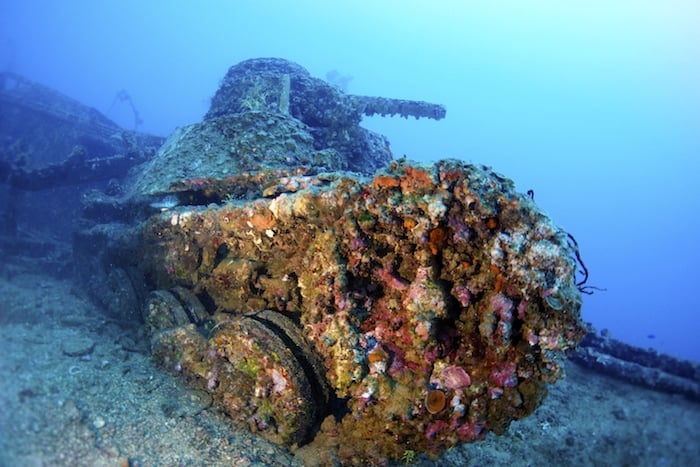 Photo courtesy of Thorfinn liveaboard, Truk Lagoon, Micronesia
BEST WRECK DIVING IN THE CAYMAN ISLANDS
Cayman Islands liveaboard diving offers the chance to explore over 350 dive sites and numerous islands. Grand Cayman is home to a particularly well-known wreck, the USS Kittiwake. This US Navy submarine rescue vessel was in operation for over 50 years before it was purposefully sunk off Seven Mile Beach in 2011. Liveaboards to the USS Kittiwake take divers to some of the best dive sites in the Caymans. The wreck is in warm water and is known for having fantastic visibility perfect for wreck diving.
The Keith Tibbetts wreck, a Russian Missile Frigate, is another highlight of diving the Caymans and was purposefully sunk in 1996. It is in great condition for divers to experience and is the only diveable soviet wreck in the western hemisphere. She lies in 20 to 30 meters of clear water off the iconic North Wall dive site and is a great multi-level dive site. Divers can explore the wheelhouse, staterooms, and an impressive set of twin guns. The top of the ship is shallow enough that it is even accessible to snorkelers. The wreck has already been colonised by abundant marine life and is also visited by a friendly bottlenose dolphin known as Spot.
BEST WRECK DIVING IN THE SOLOMON ISLANDS
The Solomon Islands are unspoilt, with pristine reefs, numerous fish species and over 500 species of coral to experience. The islands are also home to numerous World War II wrecks. Iron Bottom Sound in the Solomon Islands has over 200 ships and 690 aircraft, sunk during the battle of Guadalcanal during 1942 and 1943. There are Japanese and American military relics, including destroyers, minesweepers, submarines, planes and troop carriers.
The area has small wrecks that are easy to navigate, plus more complex wrecks for experienced wreck divers. The wrecks are covered in corals and visited by manta rays, sharks and large schools of pelagic fish. Solomon Islands liveaboard diving offers the chance to experience wreck diving and the pristine reefs of the Solomons, whilst also experiencing island scenery and local village life in this tucked away part of the South Pacific.
BEST WRECK DIVING IN AUSTRALIA
Australia has one of the top wreck dive sites that happens to be situated in the centre of the Great Barrier Reef; the SS Yongala of Australia's Queensland coast.

This ship sank in 1911 and is still in great condition. It is protected by the Historic Shipwrecks Act, which prevents anyone from swimming inside the wreck, and the interior has remained as untouched as possible. It is filled with a range of marine life, covered in corals, and can be dived over numerous dives, given it is a huge 109 meters (357 feet) long. Divers may get to see bull sharks, bull rays and groupers during a trip to this special wreck.
SS Yongala liveaboard diving is a unique experience offered by just a few operators. Dates to this wreck vary and it is best to contact us for details about trip availability.
BEST WRECK DIVING IN THE PHILIPPINES
The Philippines has over 7000 islands and Philippines liveaboard diving offers the chance to explore numerous well-known dive sites. The region of Coron, in the province of Palawan, is off the beaten track and has a fleet of Japanese supply shipwrecks. The ships were sunk in 1944 and are dotted around the islands of the area. It is gaining a reputation as one of the best places in the world for wreck diving and has vessels ranging from small gun boats to seaplane tenders and tankers. The best way to explore the numerous wrecks is by Coron liveaboard diving.
BEST WRECK DIVING IN INDONESIA
Bali has numerous dive sites to explore and also has the USAT Liberty shipwreck. This wreck lies at a depth ranging from 8 to 30 meters (26 to 328 feet) and is suitable for Open Water divers to experience. The wreck is covered in hard and soft corals and is host to large schools of reef fish and garden eels. Pelagic species can also be seen, such as blacktip reef sharks, oceanic whitetip sharks and barracuda. Liberty shipwreck diving is a popular choice for any dive cruise departing from Bali.
WHEN TO GO WRECK DIVING
Great scuba diving is available year-round in Egypt and there are accessible wreck dives all year.
There are three main dive seasons in Micronesia and the high season of December to March has calm seas and drier weather. The low season of May, June and September offer the lowest prices and least visitors. Truk Lagoon can be dived all year and has consistently calm conditions due to it being a sheltered lagoon.
The Cayman Islands can be dived year-round, but the months of May and June offer the best diving conditions. The Solomon Islands also have excellent diving all year and there is only a minimal rainy season from November to April.
Those visiting Australia to wreck dive the SS Yongala should contact us for information about trip dates and availability.
The Philippines dive season is year-round but there are distinct diving seasons with different conditions. The best time to explore Coron is during the dry season from November to May. December to March are particularly good months to visit.
Indonesia is best dived between May and September, but diving is possible all year.
WHAT MARINE LIFE CAN BE SEEN WHEN WRECK DIVING?
A variety of marine life can be seen whilst wreck diving, as different species colonise and seek shelter in wreck structures. Each destination has different marine life highlights and more information is in the destination guide above.
WHO CAN TRY WRECK DIVING?
Depending on the location, divers will not need any special certifications to participate in wreck diving and there are wrecks suitable for open water divers. Dive training agencies offer courses for divers who want to become a wreck diver and gain skills and experience to explore a wider range of wrecks.
These courses include:
WHAT WRECK DIVING GEAR DO DIVERS NEED?
There isn't a need for specialised wreck diving gear at many wrecks, though wreck diving specialists may carry multiple dive computers, torches, air sources, wreck reels and other wreck diving gear for advanced wreck dives at depth.
The following items can be useful to take wreck diving, though check beforehand with your dive operator in case they have special requirements:
Dive torch and backup

Compass

Wreck reel

Dive knife
WHAT DIVING SKILLS DO WRECK DIVERS NEED?
It is a good idea to complete a wreck diver course to learn about wreck safety and get the most out of wreck diving, though it isn't necessary to do so to experience some wreck dive sites. It is important to have good buoyancy and a neat dive gear setup to prevent collision with the wreck interior and to stop any loose gear from becoming caught in the wreck. Learning the frog finning technique is useful to prevent silt disturbance when exploring wreck interiors and divers should familiarise themselves with the wreck layout beforehand to prevent disorientation during the dive.
WHAT ARE THE MAIN HAZARDS OF WRECK DIVING?
The main hazards of wreck diving arise during limited penetration and full penetration wreck dives and are disorientation, entanglement, and the loss of vision. Clear water inside of wrecks can become clouded by rust particles and sediments when a diver turns to exit, causing a loss of vision to the exit point and potential disorientation. The risks of all of these can be minimised by ensuring divers complete appropriate wreck dive training, use wreck diving gear (such as wreck reels) to mark the dive route, and only undertake dive wrecks within their experience level. Good buoyancy control and finning techniques are key in preventing sediment disturbance during any dive and are even more important when wreck diving.
The hazards of non-penetration wreck diving are low and are similar to normal recreational diving, though divers should ensure they avoid any sharp wreck edges.