Wall Diving Essentials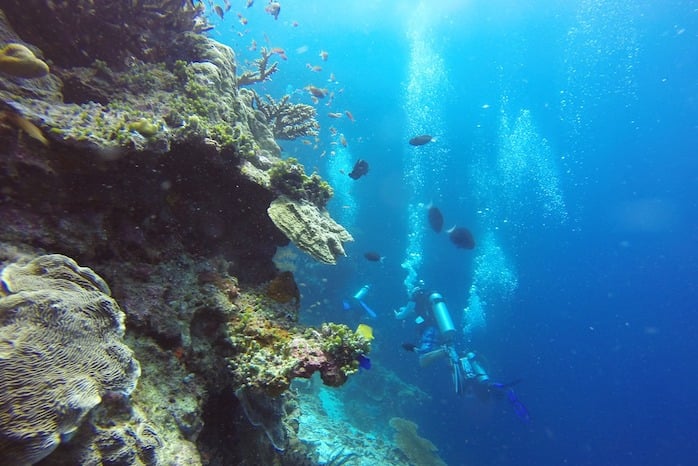 What is wall diving?
Wall diving involves diving alongside the edges of coral reefs, or reef walls, and other vertical underwater terrains. Reef walls can vary in size from just a few meters on part of a reef to walls that drop dramatically down for hundreds of meters and more.
Why go wall diving?
Wall diving is exhilarating and there is nothing quite like hovering at the edge of a wall and watching the vast inky depths of the ocean below. It offers the opportunity to enjoy striking and unique terrains, colourful coral formations, plentiful reef fish and larger pelagic species.
Where to go wall diving
There are numerous wall diving destinations for divers to experience the best wall diving in the world.
Wall diving Cayman Islands
Little Cayman's Bloody Bay Wall is one of the best places for wall diving and is part of the underwater mountain range that makes up the Cayman Islands. The wall starts at 9 meters (30 feet) and drops dramatically to over 914 meters (3000 feet); offering one of the most sought-after and colourful dive sites in the Cayman Islands. The wall is covered in corals, fans, and sponges; including vase, tube and elephant ear sponges. Macro life at this dive sites includes arrow crabs, eels, shrimps and seahorses. Bloody Bay Wall liveaboard diving offers the chance to fully explore the wall and experience marine life such as eagle rays, turtles, moray eels and curious Nassau groupers.
Grand Cayman wall diving is well-known, and the Grand Cayman Wall runs around the island. There are a number of sites for diving the wall and experiencing scuba diving in Grand Cayman. The more remote Grand Cayman North Wall is a dive highlight and offers the chance to see sea turtles and hammerhead sharks whilst exploring the marine life on the wall itself. The east of the wall has caverns and swim-throughs, whilst the famous Stingray City dive site is in the north.
Wall diving Turks & Caicos
This lesser-known Caribbean destination has gained a reputation for its sheer coral walls that disappear into the depths to over 2000 meters (7000 feet) in places. West Caicos Island has numerous pelagic species that swim alongside pristine coral walls. Garden eels and stingrays hide amongst the sandy flats and the walls are covered in huge orange elephant ear sponges and staghorn corals. French Cay liveaboard diving offers the chance to explore a tiny atoll with a number of wall dives where divers can see pillar corals, sea fans, nurse sharks, and of course reef fish. The dive sites off Providenciales also have diverse marine life, but the main attraction are the black corals along the walls; including bushy, feathery, curly and tree-shaped corals. Columbus Passage lies out in the deep and is a 22 mile (35 kilometre) wide channel that separates the Turks from the Caicos. It is most famous for being a humpback whale migratory path to the Dominican Republic breeding grounds during the winter months. Scuba diving in Turks & Caicos has something for every diver.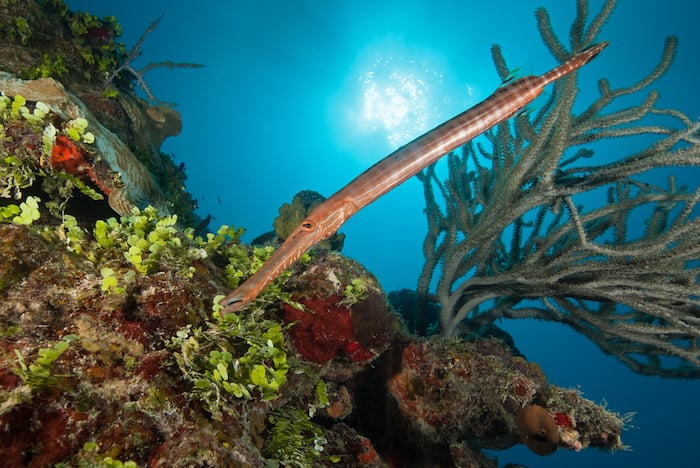 Wall diving Bahamas
Bahamas liveaboard diving offers the chance to experience Bahamas wall diving sites and vibrant coral reefs, including at the Exuma Cays. The Exumas are an archipelago of 365 cays and islands that offer unique diving opportunities, including the only tidal blue hole diving in the world. San Salvador is known for two things; hammerhead sharks and dramatic wall diving. The walls range from steep walls through to gradually descending slopes with cut-throughs and canyons. The Great Cut dive site is a descending slope dive with unique topography.
Wall Diving Honduras
The Cayman Trench off the coast of Roatan has dramatic wall dives, reefs, cracks and crevices to explore; from depths of 5 meters (16 feet) to 60 meters (196 feet). The area is famous for whale sharks, dolphins and rare black corals. One of Roatan's most popular wall dives, West End Wall, is a series of canyons and channels that is ideal for divers and snorkelers. The site has large schools of barracuda, tarpon and jacks. Honduras liveaboard diving near Utila offers sheer walls on the north side and vibrant reefs on the south side. Guanaja, the most remote of the Bay Islands, has volcanic outcroppings and wall dives to explore, as well as reefs and wrecks. The diverse dive location is best experienced by Honduras liveaboard diving.
Wall Diving Belize
Diving in Belize is truly unique and is home to the longest unbroken barrier reef in the Western Hemisphere. Turneffe Atoll reef is made up of mangrove islands and offers big wall diving, as well as shallow sea gardens and sand flats. Whilst drifting by, divers can see moray eels, rays, turtles and an array of coral formations on the walls. Lighthouse Reef is one of the best places for wall diving and was made famous by Jacques Cousteau. The area is known for the Great Blue Hole but also has great wall diving, especially at Half Moon Caye. Divers can see Caribbean reefs sharks and plentiful macro life whilst diving Half Moon Caye. With little or no current, it's a great dive for all.
Wall diving Hawaii
Divers are drawn to Hawaii for dramatic underwater landscapes of lava tubes, caverns and huge craters. There is some great Hawaii wall diving off Maui and the Molokini Crater is the most popular dive destination there. The depths range from 16 to 21 meters (52 to 68 feet) in the interior and over 100 meters (328 feet) on the exterior of the crater. Molokini Back Wall is a particularly popular wall dive. The song of humpback whales can be heard there from December to May and the area is known for manta and shark encounters. Hawaii liveaboard diving offers the opportunity to explore a variety of Hawaii's dive sites.
Wall diving Red Sea
The Brothers Islands sit in the middle of the Red Sea and are a remote diving destination, only accessible by The Brothers liveaboard diving. They are among the best dive sites of the Red Sea and the islands have huge drop-offs into the blue. The Brothers walls are covered with colourful hard and soft corals and are washed by strong currents, attracting marine life that includes oceanic whitetip sharks, grey reef sharks and even hammerheads.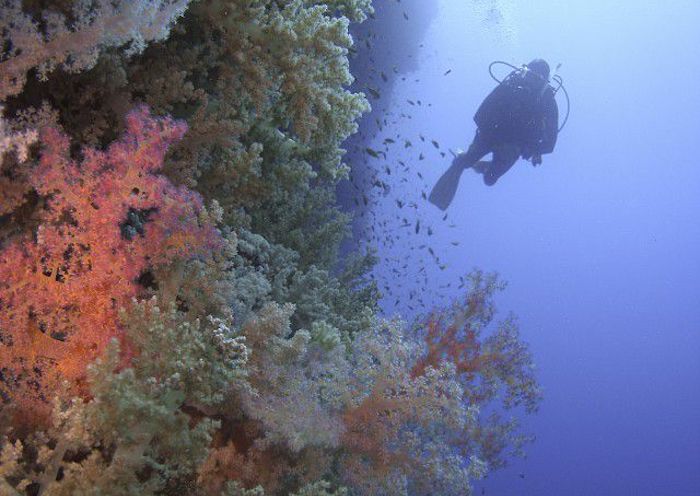 Wall diving Indonesia
Komodo is one of Indonesia's most species rich locations and is famous for its Komodo dragons. Diving Komodo is truly exhilarating, with very strong currents and wall dives. Batu Balong is a large pinnacle near Komodo Island and is a wall dive that stretches down to 75 meters (250 feet). It has exceptionally strong currents and offers deep diving with Napoleon wrasse, oceanic whitetip sharks and plentiful reef fish.
Wall diving Palau
Blue Corner is arguably the most popular dive site at Palau. This wall starts at 10 meters (30 feet) and descends down to 330 meters (1000 feet), with a plateau at 12 to 20 meters (45 to 60 feet). It can be a strong current dive, reef hooks are needed, and the marine life is diverse and abundant. The wall is covered in hard and soft corals and there are huge schools of fish; including jacks, barracudas, snappers, butterfly fish and the Palau Napoleon Wrasse. Wahoos, giant groupers, turtles, eagle rays and sharks are also regularly seen.
Wall Diving Fiji
The vertical walls of the Somosomo Strait are washed by strong currents and offer fantastic wall and drift diving. The area is known for its colourful soft corals and large bushes of white, brown, pink and orange corals appear when the current is running. Purple Wall is true to its name and is covered in purple soft corals, plus whip corals and sea fans. One of Fiji's most famous dives is surely the Great White Wall. This wall and drift dive has a large concentration of white soft corals that give the appearance of a wall of snow and is a dive not to be missed. The Purple and Great White walls are accessible by Somosomo Strait liveaboard diving.
When to go wall diving
Top wall diving destinations around the globe provide the opportunity to wall dive somewhere any time of the year. Many of the destinations can be dived all year, though there are some seasonal variations that are worth considering.
The Cayman Islands can be dived all year, though June to October is hurricane season – which can open up dive sites at the south of Grand Cayman that are normally inaccessible.
Turks & Caicos can also be dived all year, though winter offers the chance of humpback whale sightings. January to April is the busy season.
The Bahamas best dive season is November to May, though the hurricane season of June to October offers the calmest seas.
Honduras has little fluctuation in temperature and can be dived all year long. The rainy season of October to January can diminish the water visibility slightly.
Any time is a good time to scuba dive Belize and April to June is whale shark season along the southern barrier reef.
Hawaii can be dived all year, though fans of humpback whales should visit during December to May.
The Egyptian Red Sea has few limits on its dive season and can be dived all year.
Komodo, Indonesia has a dry season from April to November and is busy during April to August. The dry season has calmer dive conditions and the reefs are at their most active during July and August when nutrients wash in with rising currents. This does however reduce water visibility.
Palau is best dived from November to May, though it can be dived all year.
Fiji can be dived all year and has the best visibility from July until December.
What marine life can be seen when wall diving?
Wall diving is all about the colourful coral formations and dramatic landscapes plunging into the depths. The walls at different destinations are home to a variety of critters and large schools of reef fish, plus passing pelagic species such as sharks, whales and rays.
The destination information above provides more detail about what marine life can be seen at each wall diving destination.
Who can try wall diving?
There are some wall dives that are suitable for less experienced divers, such as those found in shallower waters with gently sloping walls. Generally speaking though, wall diving is best suited to more advanced divers because of the depths and currents often involved.
It is advisable to be a deep diver and have a Nitrox certification to get the most out of wall diving.
What wall diving gear do divers need?
A reef hook can be useful for wall diving in strong currents and a dive computer with a depth alarm is advisable.
What diving skills do wall divers need?
Wall diving often involves diving in the open ocean without visual depth markers below, such as the ocean floor. It can be difficult to maintain the right depth whilst wall diving and divers can become disorientated. Good depth awareness and buoyancy control are needed to wall dive safely.
Wall dives are often in areas with strong currents. Divers need to be comfortable and competent at drift diving in such currents. Knowing how to use a reef hook can also be helpful at some dive sites.
Divers should monitor the currents, their depth, and air supply often during wall dives.
What are the main hazards of wall diving?
The main hazards of wall diving are going too deep, having insufficient air, and becoming disorientated. All of which can be prevented with good dive skills and attention during the dives.