Drift Diving Essentials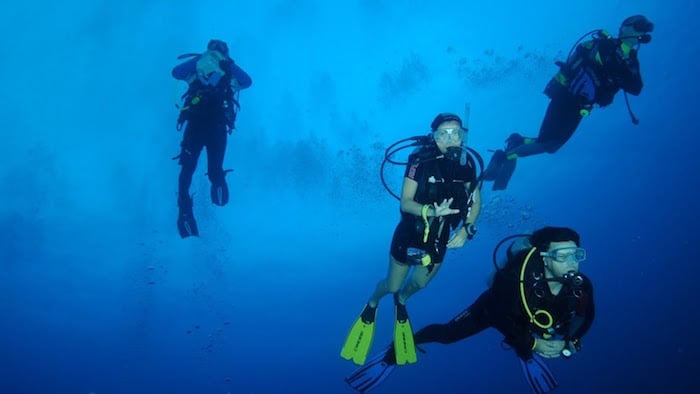 WHAT IS DRIFT DIVING?
Drift diving is a type of diving where the diver uses the current to float along and enjoy a dive site rather than using their own finning power to make progress.
WHY GO DRIFT DIVING?
Drift diving can be relaxing and one of the most exhilarating types of diving, depending on the dive conditions. A steady current can carry a diver along without them having to make any effort and is a great way to go with the flow and enjoy the scenery. On the other hand, a strong current can give the diver a true sense of flying underwater as they drift along in the current.
Drift diving allows divers to cover a large area as they are carried along faster than they would be if finning. The currents found at drift dive sites cycle nutrients continually and often attract larger pelagic life. This creates biodiversity hotspots where divers can enjoy a multitude of marine life, including groups of sharks and other large marine species.
WHERE TO GO DRIFT DIVING
There are drift diving opportunities around the world, offering the chance to experience drift diving at any time of year.
BEST DRIFT DIVING IN EGYPT
Egypt is known for colourful diving and has a large variety of dive sites that can be explored year-round.
Shark and Yolanda Reef is a well-known dive in the Ras Mohammed National Park that offers colourful corals, large schools of reef fish, rays, lion fish, and a drift dive between two coral reefs. The currents can be reasonably strong at Shark and Yolanda and it is a good dive site for intermediate divers who want to try drift diving without committing to very strong currents.
Elphinstone is a popular dive area of Egypt that offers currents and drop-offs that make it suitable for more experienced divers. The walls at Elphinstone drop off sharply and are covered in hard and soft corals. The currents usually run from north to south along the walls and offer drift diving speeds of up to 2 knots. Elphinstone is known for oceanic whitetip encounters, though thresher sharks, whale sharks and hammerheads are also seen. There are numerous reef fish, large Napoleon wrasse and barracudas.
Daedalus reef offers some of the best Red Sea diving and lies inside a marine protected zone to the east of the peaceful resort Marsa Alam. This offshore reef has strong currents and is pristine, with plentiful reef fish and large pelagic species. There are steep drop-offs to enjoy and several drift dives are possible at Daedalus. The diving is best suited to experienced divers and technical divers.
There are plenty of dive sites suitable for novice and experienced divers in Egypt, making it an ideal destination for all. There are a number of Egypt liveaboard diving vessels to choose from to experience Red Sea scuba diving. The Emperor Asmaa and Red Sea Aggressor II offer itineraries to explore the southern Red Sea, including Daedalus reef.
BEST DRIFT DIVING IN THE GALAPAGOS
The Galapagos Islands are at the top of many divers wish lists and offer some of the best scuba diving in the world. The islands are home to numerous endemic species, abundant sharks and other large pelagic life. Divers can experience marine iguanas, sea lions, penguins, hammerheads, Galapagos sharks, and Mola mola.
The strong currents at the islands make for exhilarating diving, particularly at Wolf and Darwin islands. These are the most isolated of the Galapagos Islands and the currents can be very strong there, so divers should be prepared for negative entries, gloves and the necessity to hold on to rocks at times.
Galapagos drift diving is best suited to experienced divers. There are however some scuba diving sites suitable for new divers, with calm and shallow conditions for relaxed dives. There are a small number of Galapagos liveaboard diving vessels to choose from. The Galapagos Master offers 7 to 10-night Galapagos diving safaris.
BEST DRIFT DIVING IN MICRONESIA
Scuba diving in Micronesia is known for vibrant coral gardens, plunging walls, drop-offs and numerous World War I and II wrecks. It is a top diving destination and Palau scuba diving offers exhilarating drift diving.
Ulong Channel in Palau is not for the faint-hearted. The pace of this dive is tremendous and takes divers into a channel to enjoy one of the world's best drift dives. The channel entrance is covered in corals and divers drift through the channel to the mouth, where grey reef sharks can be seen hunting fish that exit the channel. Stingrays, snappers, jacks and batfish are also seen at the mouth of the channel.
Reef hooks are needed to anchor to the wall for this dive before the current pulls divers too far. The currents can be unpredictable and strong, with currents sometimes changing direction midway through a dive. This site is best dived on an incoming tide for the strongest current.
Blue Corner in Palau is particularly popular and rightly so. This is a wall dive with a strong current, making it ideal for drift diving. The current pulls divers along the wall to enjoy grey and whitetip reef sharks, mackerel, tuna, turtles and eagle rays.
The drift diving at Micronesia is best suited to experienced divers and reef hooks are needed for some drift dives. There are a small number of liveaboards for Palau liveaboard diving, including the beautiful Palau Siren yacht that offers 7 to 10-night Palau scuba diving safaris.
BEST DRIFT DIVING IN THE MALDIVES
Scuba diving in the Maldives is synonymous with white sand beaches, coral reefs, clear warm waters and dive sites full of marine life. The Maldives offers some of the world's best scuba diving and is also a great destination for drift diving.
Noonu Atoll, one of the northern atolls, has exciting dives such as at Orimas Thilaat. The drop at this dive site leads to a sandy channel at 30 meters (98 feet) and then to a shark cleaning station. The currents around Noonu can exceed 2 knots and the area is known for grey reef sharks, eagle rays and numerous reef fish.
Ari Atoll offers a different experience to most Maldives dives areas because it doesn't feature long stretches of reef. Instead, the diving is around Thilas (underwater islands), Kandu (channels) and lagoons. Almost all of the diving in the area is drift diving and the currents are strong. The currents at Ari Atoll are perfect for small and big marine life encounters alike. There are plenty of dive sites offering nudibranchs, critters, turtles, reef sharks, hammerhead sharks, mantas, eagle rays and whale sharks.
One of the best dives in the Maldives, Mushi Mas Mingle Thia, is found at Ari Atoll. Divers can see groups of grey reef sharks, whitetip sharks, jacks, tuna and Napoleon wrasse. Those looking for whale sharks and a drift dive should visit Maamigili Beru in the southern part of Ari Atoll. The steady current takes divers past reefs and sandflats and isn't a particularly strong drift drive. Juvenile whale sharks can be seen here year-round.
The diving at Ari Atoll is best suited to experienced divers, though there are dive sites suitable for less experienced divers. There are numerous Maldives liveaboards to choose from, for all budgets and different safari durations.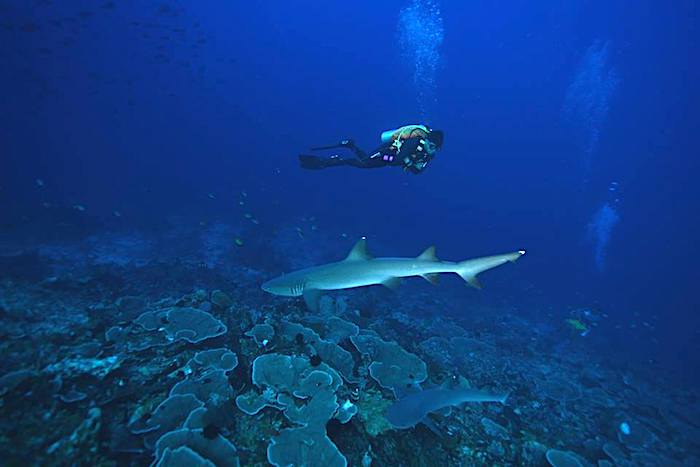 BEST DRIFT DIVING IN KOMODO
Komodo is one of the most species-rich locations in Indonesia and has wall dives, pinnacles, sea mounts, shallow reefs and swim-throughs just waiting to be explored. The currents at Komodo are very strong and offer fantastic drift diving opportunities. Divers are likely to see whales, dolphins, manta rays and sharks, plus plentiful critters and reef fish.
Batu Balong is a huge pinnacle wall dive that has exceptionally fast currents. Divers can see Napoleon wrasse, oceanic whitetip sharks and numerous reef fish at this dive site.
Scuba diving at Komodo is best suited to intermediate or advanced divers due to the strong currents in the area. There are numerous Komodo liveaboard diving vessels to choose from.
BEST DRIFT DIVING IN FRENCH POLYNESIA
The Tuamotu Archipelago is the prime destination for luxury Polynesia liveaboard diving and offers diving at two well-known areas; Rangiroa and Fakarava atolls.
Some liveaboards spend their entire itinerary at the stunning Fakarava Atoll and this area offers pristine diving. At the south end of the atoll, divers can experience the Tumakohua Pass. This narrow channel leads into the atoll lagoon and the waters in the channel reach speeds of 4 knots on an incoming tide. Divers start in the open ocean and swim to the mouth of the channel to see the Shark Wall. Hundreds of grey, blacktip and whitetip sharks gather at the entrance of the channel. Once in the pass, divers are swept past coral-covered walls and numerous fish before ending their dive in the lagoon.
Numerous other dives can be found at Fakarava, including manta ray cleaning stations and shallow reef dives with healthy hard coral cover.
Rangiroa Atoll is one of the largest atolls in the world at 170 square kilometers (65 square miles) and the Tiputa Pass is a Polynesia dive highlight there. This channel is washed by a strong current during the incoming tide, offering the chance to dive with huge schools of grey reef sharks, plus mantas, reef fish, bottlenose dolphins, and occasional tiger sharks.
Polynesia liveaboard diving is suitable for a variety of diver experience levels and just a few select liveaboards visit this far-flung paradise. The French Polynesia Master offers diving throughout the Tuamotu Archipelago and caters for up to 25 people. The Aqua Tiki II catamaran offers intimate dive safaris in French Polynesia for up to 8 guests.
BEST DRIFT DIVING IN HAWAII
Scuba diving in Hawaii is diverse, with cave dives, shipwrecks, reef diving, and plenty of large marine life. Molokini Island is a partial volcanic crater known for great drift diving at the Back Wall. Divers are pulled along by a steady current at this dive site and past volcanic landscapes full of marine life. Divers can see humpback whales, manta rays and sharks at Molokini.
Hawaii diving is suitable for all experience levels and there are numerous dive sites to choose from at the different islands. Hawaii liveaboard diving is offered by the Kona Aggressor II.
BEST DRIFT DIVING IN THE BAHAMAS
Bahamas scuba diving is known for tiger shark diving, cave diving, tidal blue holes, healthy coral reefs and the Austin Smith wreck. It is a prime scuba diving destination in the Caribbean and also happens to be home to one of the most exciting drift dives; The Washing Machine.
The Exuma Cays offer reef, wall and blue hole diving, plus swift drift diving across coral reefs. The Washing Machine dive site is in the Exuma Cays and has a strong circular tide that rolls divers head over heels as if in a washing machine. The current is only in a certain area though and can be easily avoided. The current takes divers down to 12 meters (40 feet) and lifts them back up to 5 meters (15 feet) onto a patch of reef. The reef is populated with numerous tropical fish species, batfish and abundant corals. Sea turtles and nurse sharks are also found in this area.
There are numerous other Bahamas dive sites to enjoy and Bahamas diving is suitable for all experience levels. Prior drift diving experience is helpful but not necessary. There are a handful of Bahamas liveaboard diving vessels to choose from.
WHEN TO GO DRIFT DIVING
The Red Sea can be dived all year and the plankton blooms at Elphinstone during May to July attract whale sharks, mantas and turtles. Hammerhead sharks are more frequently seen at Elphinstone during the summer months, though Thresher sharks visit in the winter.
Galapagos scuba diving is possible all year, with two main seasons. The wet season of January to June offers warmer water, with January to May being a good time to visit for mantas and hammerheads. The dry season is usually busier and offers the chance to see whale sharks.
The best time to visit Palau, Micronesia is November to May, though diving can be enjoyed year-round.
Scuba diving in the Maldives is possible all year but there are two distinct seasons. The northeast monsoon from December to May offers the calmest waters with the best visibility on the eastern side. The southwest monsoon mirrors the northeast monsoon conditions and brings cloudier weather and less calm seas. Ari Atoll is best dived during January to April for calm seas and the chance to see mantas and whale sharks, though it can be dived at other times of the year. Diving at Noonu Atoll is possible year-round but is best experienced from January to May.
Komodo can be dived all year, though the dry season brings the best weather and calm seas. The dry season is from April to November and peak diving season is from April to August. Manta rays can be seen year-round but are seen more frequently during December and February, whilst Mola mola are more likely to be seen in August.
French Polynesia scuba diving is possible all year, though January to March are the warmest (and humid) months. Humpback whales can be seen during the cooler months and marbled groupers can be seen spawning in June and July.
Hawaii can be dived all year and humpback whales can be heard in the water from December to May.
The Bahamas is best dived during the dry season of November to May, though diving is possible throughout the year. February and March are good months for bull and tiger shark sightings. The Exuma Cays can be dived all year.
WHAT MARINE LIFE CAN BE SEEN WHEN DRIFT DIVING?
The marine life seen whilst drift diving depends on the dive location but the strong currents associated with drift diving typically attract large life, such as schools of sharks and rays. More details about marine life highlights can be found in the destination guide above.
WHO CAN TRY DRIFT DIVING?
Any diver can try drift diving, though many drift dives are only suitable for divers with prior drift diving experience. Dive training agencies offer drift diver courses that provide great drift diving techniques and equipment considerations for those who want to try drift diving.
WHAT DRIFT DIVING GEAR DO DIVERS NEED?
Reef hooks and gloves are useful for drift diving in case divers needs to anchor or stop themselves during a drift dive. A surface marker buoy is necessary to highlight diver locations, especially when surfacing, as currents can push divers to different exit points. A whistle is also helpful in case a diver surfaces away from the boat.
WHAT DIVING SKILLS DO DRIFT DIVERS NEED?
Divers should streamline their dive gear to prevent any loose gear from being entangled or pulled away from them by strong currents. It is important to be mindful of the currents at all times and focus on neutral buoyancy to prevent any collisions during a drift dive. It is also important to stay close to the dive guide and follow their instructions during drift diving.
WHAT ARE THE MAIN HAZARDS OF DRIFT DIVING?
The main hazard of drift diving is being swept away from the dive group by a strong current. The risk of this can be minimised by following dive instructions, being familiar with the dive site, and diving well within a diver's experience level.