A complete beginner's guide to liveaboard diving
What to expect and how to best prepare for your first liveaboard trip.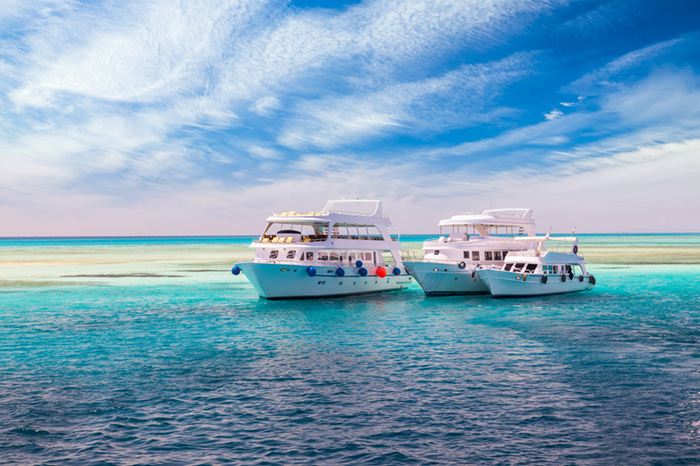 Did you just become a certified diver? Many congratulations to you, new diver! A whole new world has now opened up to you! Receiving your Open Water certification is a little like obtaining your driver's license; you have finished the course, but now all you need to do is to practice your newly learned skills. What will be your next step to gain more dive experience? How about exploring new dive sites and destinations on fun diving trips?
There are two different ways of expanding your dive horizon. Choose shore diving or day boat diving if you want your holiday not to be not solely about diving. For the more hardcore fans, there is liveaboard diving.
When your main goal is to gain more dive experience quickly, we highly recommend you go on a dive liveaboard holiday. The mantra on all liveaboard trips is: "Dive, eat, sleep, repeat." If that sounds like music to your ears, this is a great opportunity for novice divers to get a good chunk of dive experience within a relatively short time. You will enjoy multiple dives per day on different dive sites and in various aquatic environments. It is the easiest and most exciting way of exploring the underwater world.
How does it work on a liveaboard?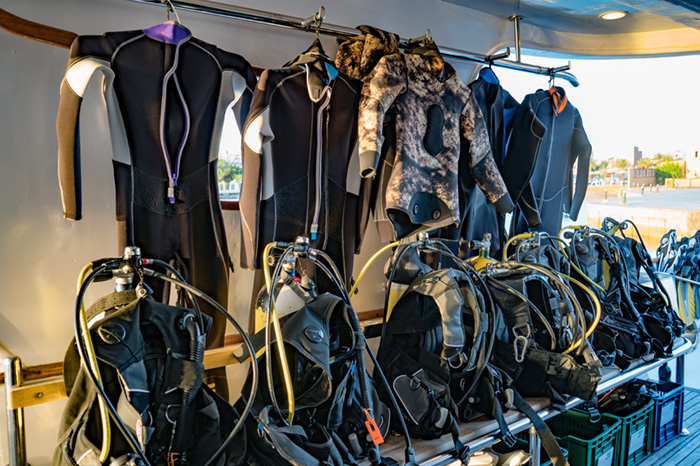 A few days diving out on the ocean accompanied by like-minded people who all love diving; what could possibly be more fun? There is a distinctly nice social aspect to liveaboard life; it is very easy to make friends on board, whether you travel solo or with a friend/partner. During meal times - of which there are many - as well as after the last dive, everyone gathers together in the dining area. A great time for all guests to chat about the day's dives and share their photos/video footage and previous diving experiences. There is a good chance you can pick up on some relevant dive knowledge from your fellow divers! The cruise leader puts together the dive groups according to dive level and experience. Do not worry if you do not have a dive buddy; you will get one.
Schedule
Usually, the diving day starts with a light breakfast plus coffee & tea and is followed by the briefing for the first dive. The first morning dive is often one of the best dives of the day, as some marine life wakes up early and has already started hunting for their breakfast, while other species don't fancy the early morning activities and are sometimes even still asleep.
Coming back from the dive, a full breakfast will be ready for you to tuck into. Take a relaxing nap after your meal so you will be geared up for your next dive. Then, the cycle repeats itself - remember: "Dive, eat, sleep, repeat". Depending on whether a night dive is scheduled, dinner will be served before or after the last dive of the day.
Continuing Diving Education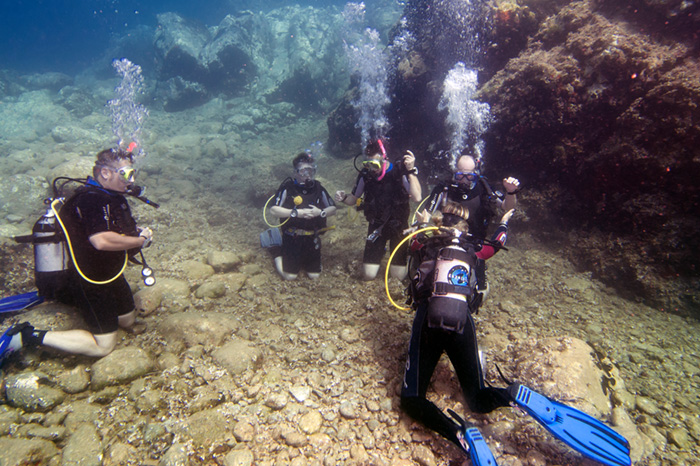 Most liveaboards will allow you to continue your diving education during the trip. As a beginning diver, your options are the Advanced Open Water course and Nitrox/Enriched Air course. The Advanced Open Water course will enable you to dive to a maximum of 40 meters depth, as opposed to a maximum of 18 meters from the Open Water course. It consists of five Adventure dives, of which two are mandatory: the Deep dive and the Navigation dive. You can freely pick the other three dives, depending on the itinerary of the liveaboard you are on. Wreck, Night, Fish Identification, and Drift dive are only a few of the many Adventure dives you can choose from. Talk to your instructor to see which ones are possible on your trip.
Nitrox/Enriched Air is highly recommended when diving on a liveaboard. You do not need to be Advanced Open Water certified to do a Nitrox/Enriched Air course. Enriched air means that the air in your tank contains more oxygen than the 21% in normal air. Usually, a Nitrox dive tank is filled with 28-32% oxygen. The higher oxygen percentage extends your bottom time per dive and lets you stay longer underwater at shallower depths. Especially when you do multiple dives per day, diving with Nitrox is a sensible idea as it reduces the chance of decompression sickness.
Where to go for my liveaboard holiday?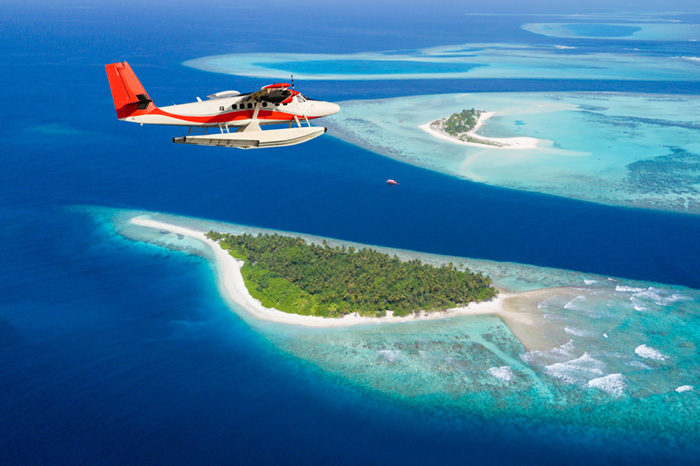 There are so many beautiful diving destinations, so where to start? Novice divers are advised to choose a relatively easygoing itinerary for the beginning of their diving career. This means you should look for areas with not too many ocean currents, challenging dive sites with wreck penetrations, etc. Depending on where you are located in the world, great first-time liveaboard destinations include the Egyptian Red Sea, the Bahamas, Thailand, and the Philippines.
Each of these destinations is different, but they all offer vibrant coral reefs with dazzling numbers of colorful tropical fish. Expect beautiful seascapes with fan corals, coral bommies, pinnacles, reef walls, sea mounts, caves, and overhangs where you can look for lobster, octopus, moray eels, or other local residents. Do not forget to look out into the blue every now and then, as you never know what may swim by.
What to pack for a liveaboard?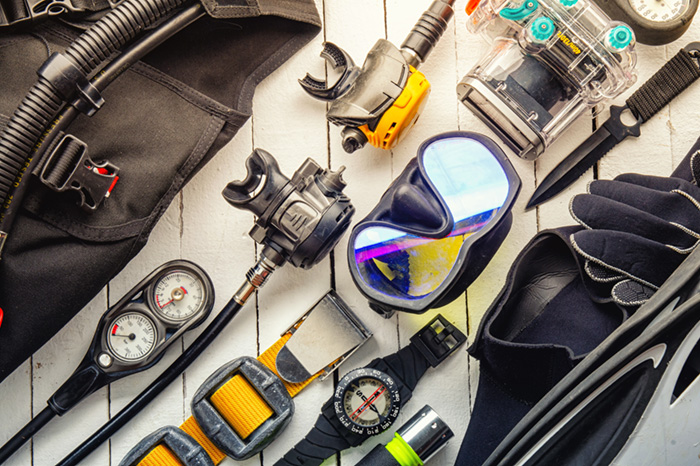 Once you have chosen your liveaboard destination, it is time to check your packing list to ensure you bring everything you need for your trip. Most liveaboards will let you rent their dive gear if you do not have or do not wish to bring your own. Do double-check with the Liveaboard.com reservations team that this is possible.
Provisional packing list:
Personal dive gear (if you have any) – mask, dive computer, wetsuit
Swimsuits – bring several, so you always have a dry one.
Sea-sickness medication
Toiletries
Reef-safe sunscreen and sunglasses
Ear plugs and eye mask
Comfy clothes & sarongs
Sneakers or sturdy sandals - in case you get to go on land during the trip
Camera gear & chargers
Cash for crew tips – most liveaboards have a tip box where you can deposit the tip.
There are many great liveaboard destinations; how do you choose your first? Read Where to go for your first liveaboard for a breakdown of some great beginner-friendly destinations.
Contact our Liveaboard.com team if you have any other questions regarding your liveaboard trip.