7 Reasons Your Next Cocos Island Dive Safari Should Be With the Sea Hunter or Argo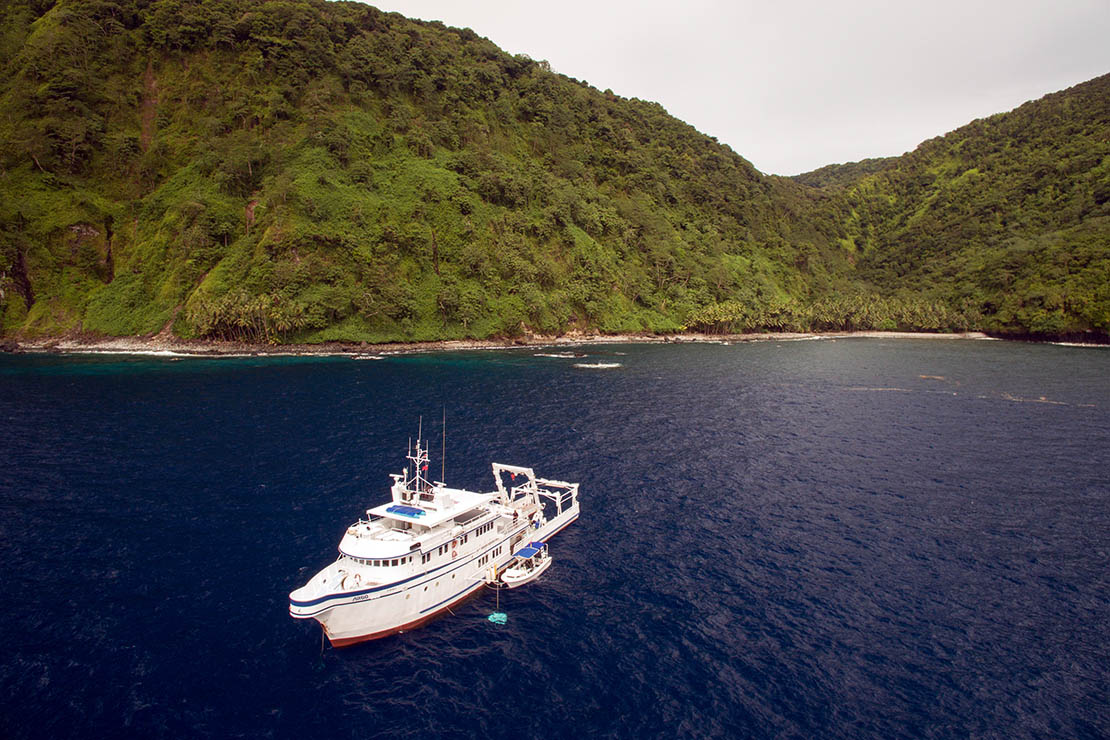 For a truly diverse Cocos Island liveaboard diving safari, the Sea Hunter and Argo are an excellent choice.
Not only will you discover Cocos Island's incredible marine life, including huge schools of hammerheads, but you'll also have the chance to dive up to 300m during a once-in-a-lifetime sub dive.
You can also take a tour of Cocos Island with a ranger and discover the many species found at this special UNESCO World Heritage destination.
• Discover Costa Rica The Moment You Arrive
Your Cocos Island diving safari begins the moment you leave your accommodation with a pre-arranged transfer to your vessel. This is more than just your average transfer though.
You'll have the chance to admire Costa Rica's lush forests and rich farmland, discovering the landscapes and culture of Costa Rica as you go.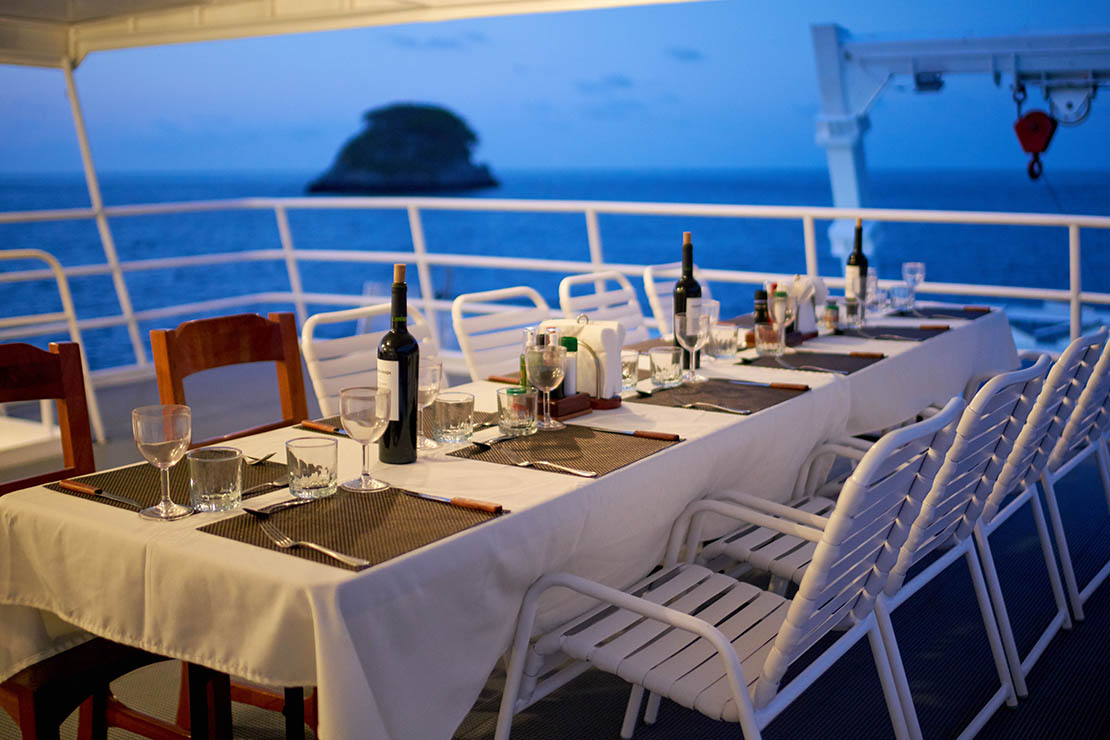 • Excellent Dive Facilities For All Diver Preferences
Welcomed by your passionate liveaboard crew, you'll soon be on board and allocated all the equipment you need for your Cocos Island liveaboard adventure.
The features on both the Argo and Sea Hunter really make these liveaboards stand out from the crowd and include:
A 'dry' and 'wet' box set up at your dive station, allowing you to keep all your dive and photography kit close to hand without concerns about items getting accidentally wet.
A welcome pack with a Cocos Island map, postcard, keyring and a handy shark identification card.
Two kinds of plugs (European and American) with 220v and 110v will meet your electronic needs.
A spacious lounge and sun deck with plenty of comfortable seating for those surface intervals.
Nitrox, rebreather support, tech diving, side-mount diving and up to 3 dive tenders.
Once you've unpacked it's time to settle down for the 36hr crossing to Cocos Island, where world-class diving awaits you.
• Experience the Magic of Cocos Island's Marine Life
Diving at one of the most remote dive destinations in the world, your safety comes first and is well taken care of with a full safety briefing before your first dive.
Safety and dive briefings done, you can enjoy possibly the best check dive location you can imagine; with a chance to see numerous schooling hammerheads all around you.
Dive groups are kept small with an average of 7 to 8 people and 2 dive masters per group, allowing you to enjoy Cocos Island's best dive sites with ease.
The reefs are teeming with life, including over 300 species of fish, plus numerous corals and crustaceans.
It's the volume of pelagic life that is the real Cocos Island liveaboard diving highlight:
Dive Costa Rica from May to November for huge schools of scalloped hammerheads
If you're a fan of whale sharks, dive Costa Rica from May to August when the plankton blooms
You can spot manta rays from November to May
As if that were not enough, you can see huge schools of yellowfin tuna, marlin and sailfish at any time of year. If you're lucky, you might even get to watch a baitball in action.
Be sure to keep your eyes open for passing humpbacks, pilot whales, dolphins and numerous sea turtles throughout the year.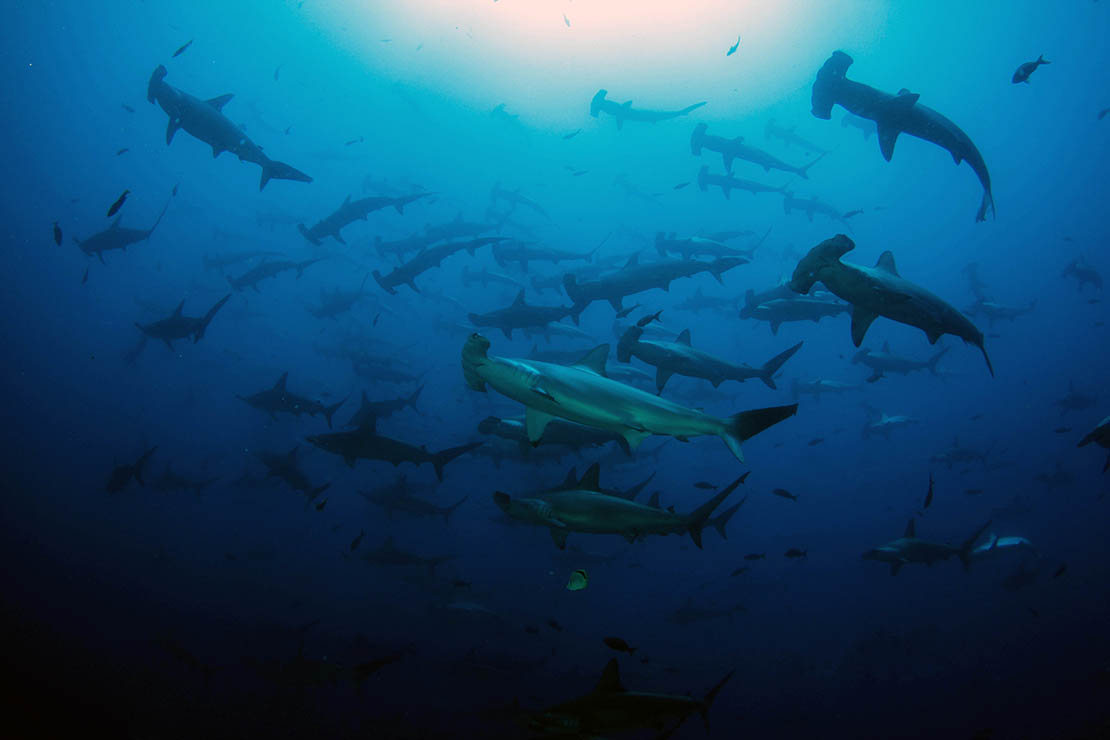 • Dive to 300m with the Unique DeepSee Submersible
For the dive experience of a lifetime, be sure to book a dive on the DeepSee submersible. You won't regret it!
The sub takes 2 passengers at a time into the depths of the ocean, descending to two dive sites; Everest at 90m and The Wall at a staggering 300m depth.
The glass of the sub has the same density as the surrounding water, meaning you won't even know it's there during your dive.
Whether you're on a Sea Hunter or Argo safari, you'll have the chance to book a sub dive and discover the landscapes and marine life of the deep.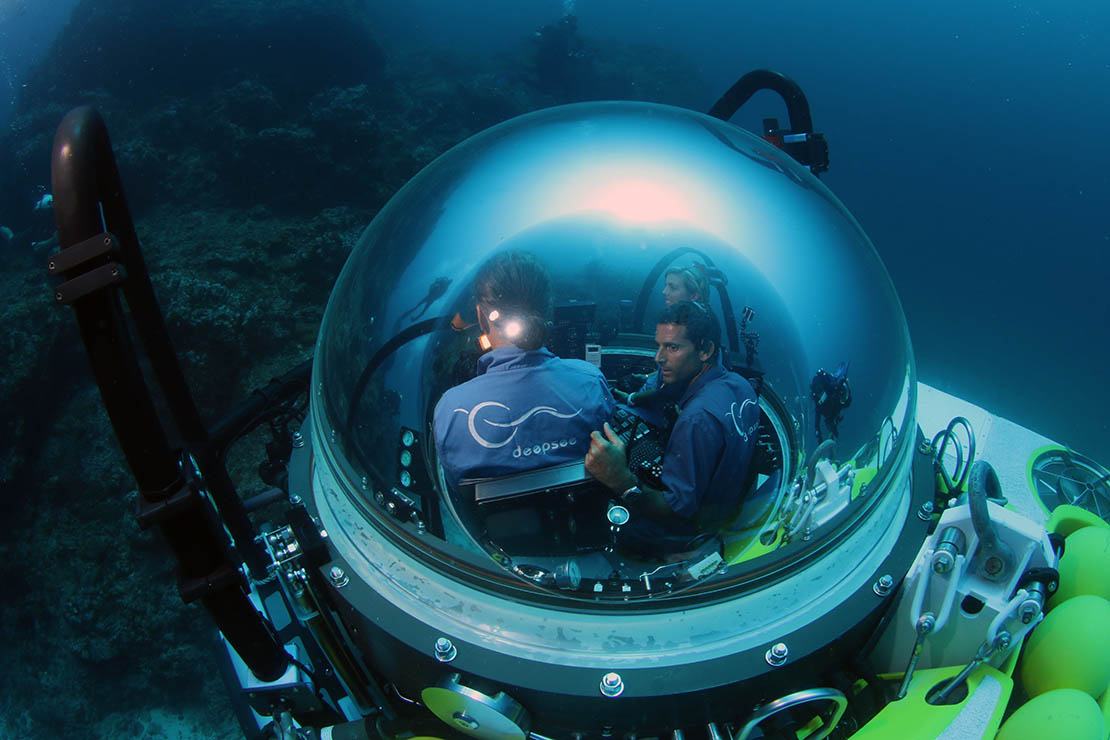 • Eat, Sleep, Dive, Repeat On Your Cocos Island Liveaboard
It's easy to refuel for each day of diving with a range of food available, including vegetarian and vegan options, plus snacks all day.
Happy Hour before dinner will ease you into the evening; with wine, cheese and music. You can choose from a selection of fine wines and beer or free soft drinks.
For end-of-day relaxation, you can join a ranger talk about Cocos Island.
The shark identification and photography workshops are ideal for learning some new skills, or you can relax with a movie about the species you'll likely see in the sub.
Remember to leave some time to browse the onboard boutique for your dive safari souvenirs or just switch off in the comfort of your cabin.
• Visit Cocos Island with a National Park Ranger
You can be one of the lucky few tourists who visit Cocos Island, joining a ranger for a guided island tour towards the end of your safari.
Explore Cocos Island's vibrant forests, waterfalls and remote beaches. Having no tourist accommodation, wildlife is thriving on Cocos Island.
Many migratory species of seabirds are found there, as well as endemic land birds and lizards.
Look closely and you might spot some of the 400 species of insects that call Cocos Island home.

• Enjoy Up To 21 Cocos Island Dives
With the Argo and Sea Hunter's safaris being 10 nights long, you'll have plenty of time to fully explore this stunning UNESCO World Heritage site and discover the abundant marine life of Cocos Island.
Before you know it, you'll have experienced up to 21 action-filled dives and it will be time to head home.
After a 36-hour crossing back to land, you'll have one last night on your liveaboard. Breakfast will be served before you disembark and transfer to the airport or your accommodation.