Where to Cage Dive with Sharks
Great White Sharks
Great white sharks are an apex predator, sitting at the top of the food chain and with only one known predator, the orca. They first appeared around 11 million years ago and can be found around the globe in temperate to subtropical waters. Growing up to 6 meters in length and weighing up to 2 tonnes when fully grown, they are an imposing fish to encounter and very popular to cage dive with.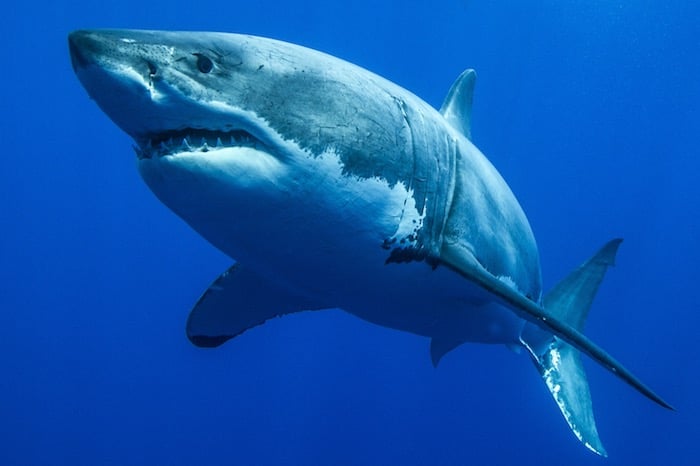 Cage diving allows you to safely get up close to these amazing creatures - photo courtesy of Horizon liveaboard, Guadalupe, Mexico
They can live for up to 70 years and feed on smaller sharks, fish, and marine mammals at different times of their life and during different times of the year. Whilst they are mostly solitary, they communicate with one another using body language, and it is rare to see a white shark bite another of its kind.
They are commonly misconceived as aggressive and have been hunted and fished heavily since the 1970s. Their global population is now estimated to be between 1500 to 5000 individuals and they are listed as Vulnerable to extinction on the IUCN Red List of Threatened Species.
When cage diving with great white sharks, two surprising facts about them come to light; they have blue eyes and their colour varies from dark to pale grey and shades of bronze. They are often heavily scarred with scratches from encounters with seals, or occasionally orca. Some females also have bite scars, obtained from male sharks during mating. It is this diversity of coloration and scars, plus their different sizes, that allow divers to recognise individual sharks.
Where is the Best Place to see Great White Sharks?
Shark cage diving is a great way to experience first-hand the sheer size and grace of great white sharks as they glide by. It is a unique dive experience, suitable for both certified divers and snorkelers. Both Guadalupe and Neptune Island offer fantastic cage diving opportunities:
Guadalupe is the premier destination for great white shark cage diving in crystal clear, warm, blue water. It is a tiny island off the west coast of Mexico and is part of a protected area. As such, chumming at Guadalupe is kept to a minimum, to protect the environment and the natural behaviour of the sharks.
Guadalupe liveaboard boats offer cage diving trips during the main season of July to December and focus solely on diving with great white sharks. The water temperature during the season is 19 degrees Celsius (66 Fahrenheit) to 22 degrees Celsius (71 Fahrenheit) and the visibility is spectacular; ranging from 40 to 52 meters (125 to 150 feet). Cage diving is available both at the surface and at depth at Guadalupe.
2. Neptune Island, South Australia
Neptune Island offers the unique opportunity to cage dive with great white sharks from the ocean floor, providing a truly immersive experience in the sharks' environment. The ocean floor dives require dive certification but cage dives are also available at the surface for non-divers.
Neptune Island has good shark viewing opportunities year-round. The main season is May to October, during which the average water temperature is 16 degrees Celsius (60 Fahrenheit). The best month for shark viewing is April; when the weather, water temperature, shark size, and other variables provide an optimal experience for divers. Divers visiting the Neptune Islands can also experience the Leafy Sea dragon, seals and sea lions typical of South Australia diving.
Cage diving with great white sharks is also available at the following destinations:
South Africa: False Bay, Mossel Bay and Gansbaii
USA: Farallon Islands and Cape Cod
New Zealand: Bluff
Can you Dive with Great White Sharks without a cage?
Great white sharks have been encountered by scuba divers when diving areas with a known shark population. It is however rare, and cage dive operators do not provide the option to dive with these sharks without a cage. It is possible to experience diving with sharks without a cage at various destinations around the globe.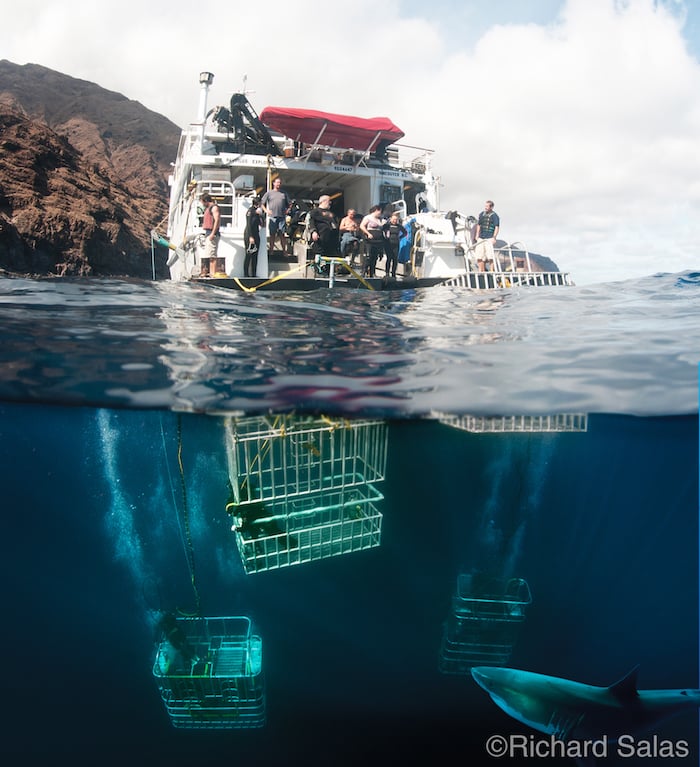 Cages in the water in Guadalupe, Mexico - photo courtesy of Nautilus Explorer, © Richard Salas
Where to Dive other types of Sharks
Cage diving with sharks other than great whites is also available and equally as rewarding. A cage provides security for swimmers lacking confidence and for those inexperienced on the open ocean, or nervous of swimming with sharks. Whilst diving without a cage is possible with many species of shark, cage dives are a great introduction to open ocean diving and being around sharks.
The scuba diving in Hawaii is diverse and there are cave dives, drift dives, reefs and shipwrecks to explore all year. O'ahu is known for its North Shore dive sites such as Sharks Cove, and cage diving with Galapagos, sandbar, and tiger sharks is available from O'ahu. With clear blue waters and year-round comfortable water temperatures, it is a premium destination for shark cage diving.
Other popular areas in Hawaii for shark diving, without a cage, include Maui, Moloka'I and Kaua'i.
Mako and blue shark cage diving is also popular and is available from Cape Town, South Africa, and from Cape Cod, USA.