The Best Places To Dive With Bull Sharks
Bull sharks may be associated with shark attacks but diving with them can be an incredible experience.
ARE BULL SHARKS DANGEROUS TO DIVERS?
Bull sharks have a reputation as dangerous because they are responsible for a number of shark bite incidents, as are tiger and great white sharks. It is worth remembering that sharks rarely bite humans though and the risk of ever being bitten by a bull shark is extremely low. Bull sharks are not an immediate threat to divers, though they should be treated with respect. They are relaxed and confident around divers, passing by at close range.
WHERE CAN I DIVE WITH BULL SHARKS?
Bull sharks are found at a handful of top shark diving destinations around the world, where you can get up close and personal with these large and fascinating sharks.
Bull Shark Diving Bahamas
The Bahamas is famous as a shark diving destination and has been declared a shark sanctuary. It is one of the best places to visit to experience bull shark diving, plus enjoy encounters with great hammerheads, tiger sharks, lemon sharks and more.
Bull sharks can be found at Tiger Beach and are more commonly seen during February and March each year. Scuba diving at Tiger Beach is suitable for all experience levels and the shark dives are conducted at relatively shallow dive sites, with divers kneeling on the sandy bottom and watching the sharks swim all around them.
The Bahamas Aggressor visits Bimini and Tiger Beach and the Bahamas Master offers special Hammerhead and Tiger Shark Experience trips.
Bull Shark Diving Costa Rica
Costa Rica is a top dive destination for shark fans and offers bull shark diving, as well as hammerhead sharks, whale sharks, manta rays and more.
The Bat Islands are famous for their large number of resident bull sharks and are accessed by visiting Guanacaste Island. Liveaboard trips to this isolated area take in a variety of dive sites but the real highlight is the Big Scare, where you can view numerous bull sharks. Whales, dolphins and manta rays are also found at this dive site.
The current can be strong at the Big Scare and the dive depth is up to 30 meters, making this bull shark dive best suited to advanced divers. The Okeanos Aggressor and Okeanos Aggressor II both offer Guanacaste and Bat Island safari during June to August each year.
Bull Shark Diving Fiji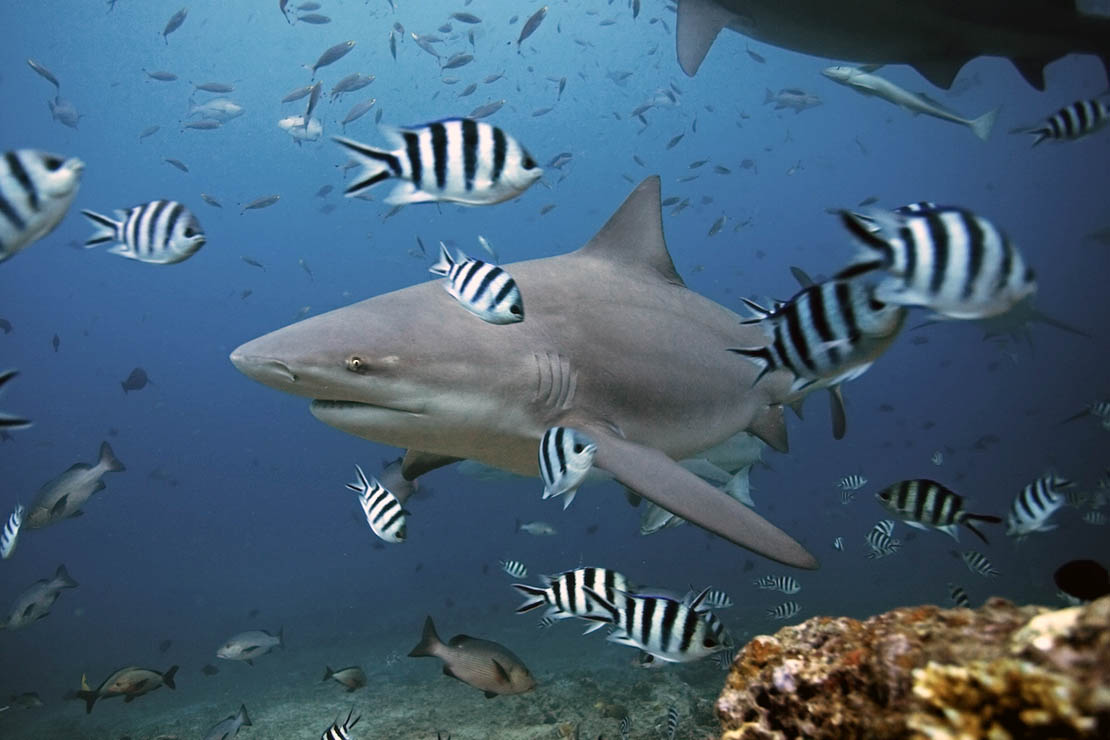 Fiji is known as the soft coral capital of the world and offers exceptionally colourful coral diving, as well as a variety of large pelagic species. Shark encounters are almost guaranteed in some areas of Fiji.
Divers can spend time underwater with tiger and bull sharks, lemon sharks, zebra and silky sharks. There is also the chance to see hammerheads and whale sharks. Gau Island has some of the best shark diving opportunities, as does the Nigali Passage and Makongi Island.
Fans of bull sharks should ensure they dive Beqa Lagoon before or after their Fiji liveaboard safari. Beqa shark diving is known for numerous bull sharks and occasional visiting tiger sharks.
Fiji diving is possible all year and there is something suitable for all experience levels within Fiji's broad range of dive areas. The Fiji Aggressor offers Fiji dive safaris and the Reef Endeavour offer Fiji dive-cruise safaris.
Bull Shark Diving Micronesia
The remote islands of Micronesia offer pristine diving for adventurous divers and plenty of shark action.
Palau is one of the most popular Micronesia dive areas and is known for WWII wrecks and diverse marine life brought to the area by three major ocean currents. Divers can enjoy encounters with grey reef sharks, whitetips, nurse and zebra sharks at Palau.
Peleliu in Palau is the place to visit for the best chance of seeing bull sharks and also tiger sharks. Peleliu Wall and Cut offers wall and reef diving with schools of grey reef sharks, whitetip sharks and the chance to find these larger species of shark. Lucky divers may also see orcas and whales there.
Micronesia has something for all dive experience levels, though Peleliu is suited to experienced divers only due to the strong current there. There are a variety of Micronesia liveaboards that visit Palau and Peleliu.
Bull Shark Diving Australia
The S.S. Yongala is one of Australia's premier wreck dives and is home to bull sharks. This unique wreck is a huge 109 meters long, lies at a depth of 28 meters, and has a staggering array of marine life; including bull sharks and bull rays.
The nearest port to the S.S. Yongala is Townsville, which is the most common point of departure for Australian liveaboard diving trips to the wreck. We only have 1 operator that conducts trips to the S.S. Yongala at present. Please check with us for details about trip availability.
Bull Shark Diving Panama
The Coiba Island Marine Park, a UNESCO World Heritage Site, is part of Colombia but is accessed by Panama liveaboard diving. The 38 islands that make up Coiba Marine Park are home to more than 700 species of fish and offer diving with plenty of whitetip reef sharks, plus hammerheads and occasional bull and tiger sharks.
Whilst bull sharks are not seen frequently at Coiba Island, they are found there and this area is worth visiting for shark diving in general.


WHERE ARE THE BEST PLACES TO DIVE WITH SHARKS?
Are you looking for other top shark diving destinations or different species to dive with? Be sure to check out our Best Places To Dive With Sharks and Where To Cage Dive With Sharks.