Best Places to Dive in January
Scuba diving in January is all about big animals, especially the three that ocean-lovers most crave: manta rays, whale sharks, and whales. Topping the list for manta ray viewing is the Maldives, which offers quintessential atoll scenery from a range of vessels. Mexico liveaboard diving in January has no atolls, but the rewards of braving its Pacific coastline are literally huge, with humpback whales joined by sharks, mantas, and dolphins. The small African nation of Djibouti also offers huge creatures, with a seasonal whale shark population you can encounter by snorkeling sessions during your January liveaboard voyage. A trip to these dive spots is a great way to escape the winter blues and celebrate the new year.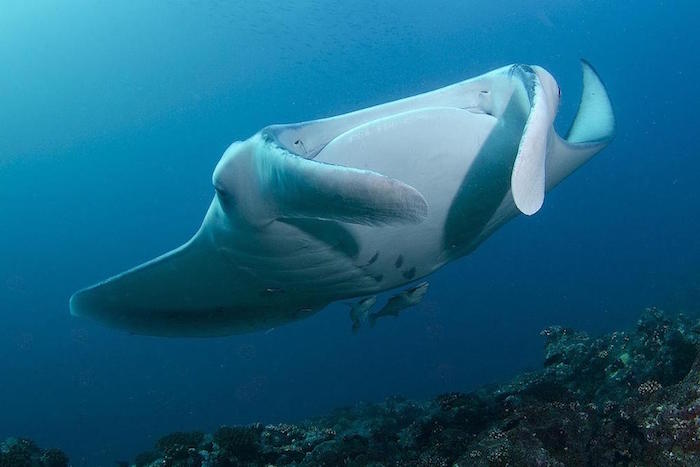 What to see in January?
January diving in the Maldives brings excellent manta viewing to the west side of the atolls, where plankton-rich currents stream into the open ocean. The manta rays gather around the currents' exit points, attracted by the abundance of food, and divers can gather to watch them. In the Baja region of Mexico, January wildlife abundance is not determined by plankton, but by an ancient migration pathway, in which huge aggregations of humpback whales make their stately journeys between the poles and the equator. And in Djibouti, liveaboard diving is a new industry relative to its Red Sea neighbor Egypt, so you can be sure of a peaceful, uncrowded atmosphere for your whale shark encounters.
Best place to see manta rays in the Maldives
Seas are calm and skies are blue in January in the Maldives, and it's a perfect time to spot mantas at Ari or Male Atoll. By liveaboard diving here in January, divers catch a prime plankton season at the "outflow zone" of these atolls- when the monsoon wind is blowing from east to west, this means the western side. All that plankton (microscopic plants and animals which float in the current) is 5-star dining for manta rays, so they congregate on the atoll's western rim and feast!
Ari atoll's most famous manta spot is Donkalo Thila, one of Ari's many pinnacles, which are famous for attracting big fish. However, Ari holds at least three more cleaning stations with high sighting numbers. Ari also offers the opportunity to dive into schools of hammerhead sharks at neighboring Rasdhoo Atoll. And whale shark viewing at Ari is the best in the country. North Male atoll also claims world-famous manta cleaning stations, such as Manta Point, among others. If you're a manta-fan who's wondering where to dive in January, luxury motor yachts like the Emperor Serenity get you up close and personal with the winged giants.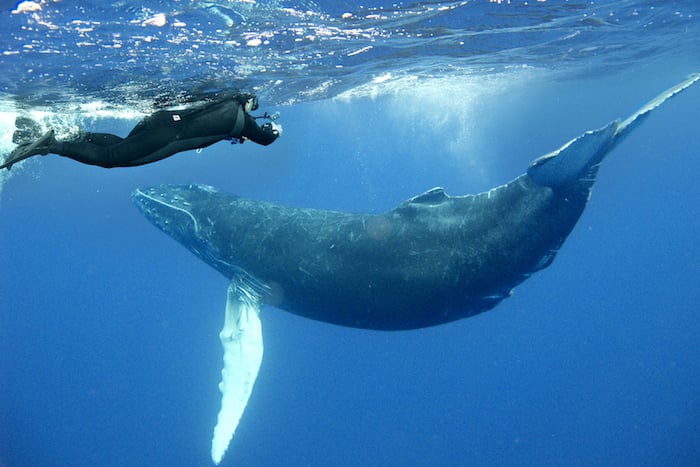 Best time for whale watching in Mexico
Late January on Mexico's Pacific coast is a special time of year: this is when the humpback whales arrive. Socorro and the rest of the Revillagigedos Islands are the best places to dive in January if you want to see, and hear, these enormous mammals underwater. Humpback whales migrate thousands of miles between their polar feeding grounds and their equatorial breeding grounds. Socorro Island lies far enough out to sea to be one convenient stop on their long journey. The Revillagigedos archipelago also attracts huge amounts of other big pelagics, including at least ten species of sharks, and plenty of manta rays. At 21-23 C / 70-73 F, the water is cold, but the chance to dive in the "Galapagos of Mexico" makes it worth it.
In the sheltered Sea of Cortez between Baja California and the rest of Mexico, another gentle giant can be found. A large whale shark population frequents the Bay of La Paz in Baja California Sur from early winter to late spring. Scuba diving is not allowed, but free diving and snorkeling are usually considered an even better way to immerse oneself in the experience, without the weight of tanks and gear.
Diving with whale sharks in Djibouti
Djibouti is the hottest new destination for Red Sea diving, and one of its star attractions is whale sharks. In January, whale sharks are drawn to the region by a crab spawning event that releases tons and tons of larvae into the water. The whale sharks need only open their gaping mouths and swim through the soup. But whale sharks aren't the only reason to visit this small African country; scuba diving in January in Djibouti offers uncrowded scenes of colorful corals and fish, with a diversity of the Red Sea and Indian Ocean species. It also holds strikingly dramatic topography; for example, "The Crack" is a dive site where you descend between three tectonic plates! There are also walls which descend to depths of 200 meters, and a variety of submerged volcanic islands. Djibouti diving in January also has a comfortable air temperature, when you can enjoy the sunshine without overheating.
More dive destinations you can visit in January
If you're looking for coral gardens and macro-critters in a remote, pristine environment you might also consider Raja Ampat in Indonesia for January scuba diving. Palau, a South Pacific favorite with huge populations of sharks and countless wrecks, is another great option for liveaboard diving in January. At this time of year, Palau enjoys great visibility and a lot of whale sharks and manta rays. The year-round dive destination of Cayman Islands is always a great option for varied and interesting diving at coral gardens, wrecks, walls, and caverns.