Best places to dive during November
If you need a dose of warm waters and sunny skies before winter kicks in, or if you want to beat the holiday crowds, diving in November might be for you. There are lots of great places to submerge in November, including some of the best dive spots in the world; Indonesia, Costa Rica, and Egypt. The great archipelago of Indonesia is a dream destination for coral-lovers, macro-lovers, and biodiversity enthusiasts. Costa Rica's Cocos Island, with its massive schools of hammerheads, is perhaps the pinnacle of all tropical shark-diving experiences. And Egypt's legendary Red Sea visibility means that colorful corals and fish will fill your photos with unmatchable vibrancy.
What to see in November?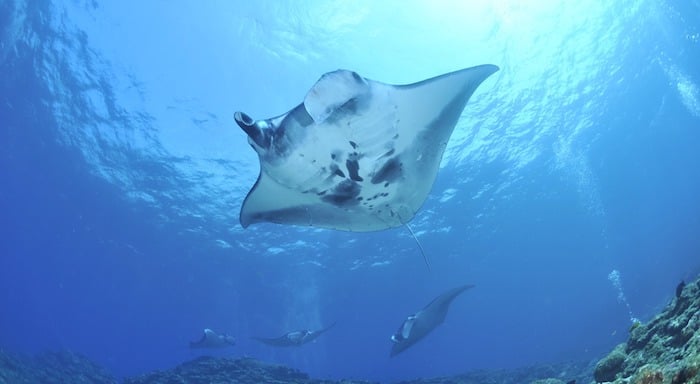 In Indonesia, Komodo National Park is one of the best places to dive in November. This group of islands, home to the ferocious Komodo dragon, holds a perfect mix of large and small creatures underwater. Some of the world's premier muck diving sites and pygmy seahorse spots can be accessed on a Komodo liveaboard, and so are reliable cleaning stations for manta rays. November is the end of the dry season and enjoys 30-meter visibility. In Raja Ampat, November marks the beginning of the dive season, with calm seas and good weather. Plankton draws in high numbers of manta rays to add to Raja's year-round biodiversity explosion; as the center of the Indo-Pacific biodiversity hotspot, Raja's macro-diving is unparalleled.
In Costa Rica, Cocos Island tops the list for November liveaboard diving. This uninhabited island and its protected waters lie 550 kilometers from the Costa Rican coastline, and the bounty of big fish, especially sharks, surpasses virtually every other dive site in the world. The month of November falls under Cocos' wet season when hammerhead sharks are most plentiful. Other marine life includes turtles, mantas, tuna, whale sharks, dolphins and many, many reef sharks. For hammerheads, in particular, the dive site of Bajo Alcyone can't be beaten. The shallowest point of this seamount is 25 meters deep, making it a site only for advanced divers. Watching the legions of hammerheads silhouetted above and around you make for a dive of a lifetime, and the regular presence of whale sharks and mobula, manta, and eagle rays makes it even more unforgettable.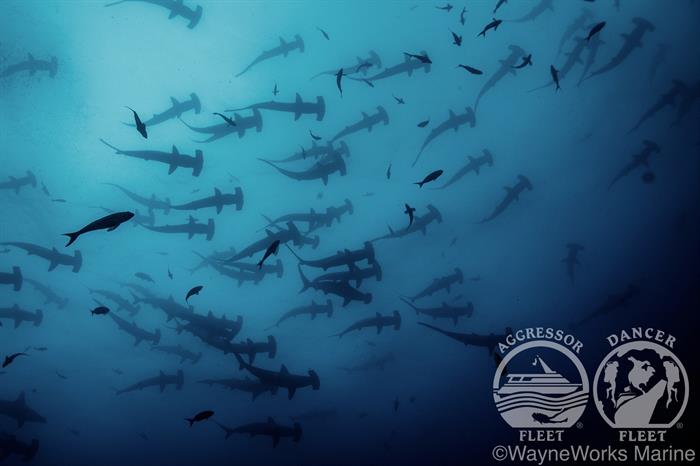 Egypt's year-round diving season means that there's never a bad time to visit, and St. John's Island is a top choice for Red Sea scuba diving in November. St. John's lies in Foul Bay, south of Marsa Alam. The fringing reefs around the island are known for the diversity of their dive sites. Caves, caverns, tunnels, and swim-throughs are abundant in the area. Other topographies include relaxed plateaus and steep drop-offs adorned with gorgonians. Local marine life includes Napoleon wrasse, grey reef sharks, and occasional sightings of oceanic whitetip sharks, hammerheads, mantas, and dolphins. Daedalus reef is another great option when considering where to dive in November. This remote, steep-sided reef, 50 kilometers off the Egyptian coast, is mostly unspoiled, and hosts massive Napoleon wrasse, sharks, mantas, and tuna in its colorful shallows and along its vertical walls. Elphinstone, a well-loved reef 30 kilometers north of Marsa Alam, is another fully submerged, steep-sided dive site. On its two walls and two plateaus, oceanic whitetip sightings are common, as well as Napoleon wrasse, great barracuda, and plenty of colorful corals and reef fish.
Spot the Mola Mola fish
At select sites near Bali, lucky divers have the opportunity to experience one of the rarest large animal encounters in the world: diving with sunfish, or Mola Mola. These incredibly strange but beautiful (and enormous) circular fish are reliable visitors to the island of Nusa Penida, as well as the smaller Nusa Lembongan. In some dive sites, currents can be extremely strong and can change direction without warning. If you can manage the dive conditions, you may be rewarded with multiple sunfish sightings along the sponge- and coral-encrusted walls. Mola Mola season runs from July through November, but sightings can be variable, so we recommend you contact your chosen liveaboard for advice ahead of time.
Diving with Grey Reef Sharks
The Emperor Asmaa liveaboard in Egypt is a sleek motor yacht which offers seven-day cruises to premier Red Sea dive locations like Daedalus. November is a great time to catch grey reef sharks in the throes of their yearly mating season.
Other Great November Dive Destinations
If you're considering scuba diving in November, Djibouti should catch your eye as one of the best places to swim with whale sharks. South Ari Atoll is also a great option for whale shark-lovers; the sharks visit the area year-round. For thrill-seekers, November marks the end of the Guadalupe great white cage diving season off the west coast of Mexico, as well as the end of the scalloped hammerhead season near Marovo Lagoon in the Solomon Islands.