The Blonde Abroad in Raja Ampat on Samambaia Liveaboard
In an effort to promote liveaboard diving and get a young audience excited about the fantastic underwater world, we have recently hosted blogger and influencer Kiersten Rich from The Blonde Abroad. Kiersten set sail aboard the MV Samambaia for the trip of a lifetime exploring Raja Ampat, Indonesia.
Kiersten is a keen scuba diver, having previously overcome her fear of the deep ocean, and this was her first liveaboard experience. She spent 11 nights and 12 days sailing and diving Raja Ampat and the Banda Sea. In her words 'I had an incredible time indulging my mermaid side'.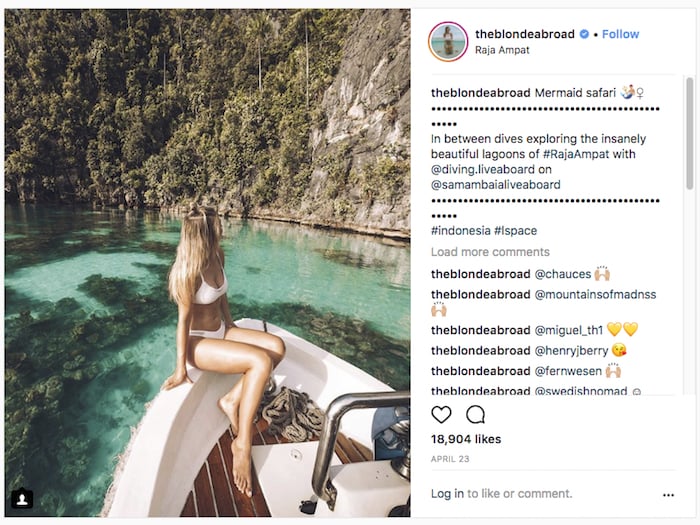 The MV Samambaia can accommodate up to 14 guests and is a beautiful wooden sailing boat, just perfect for an Indonesian diving adventure. The rooms are made of traditional woodwork and some of the rooms can be converted to accommodate three people, making this beautiful boat ideal for families. The Samambaia has great rental gear options and even offers free Nitrox for Nitrox-certified divers. This boat takes different routes around Indonesia depending on the time of year, including through Raja Ampat, the Banda Sea, Alor and Komodo.
Kiersten was full of praise for the knowledgeable dive guides, plus the safety-conscious and fun crew who made sure everyone had a great (and safe) time on and off the boat.
Liveaboards in the Banda Sea provide the rare opportunity to explore a region of untouched waters and the area has some of the best scuba diving in Indonesia. Raja Ampat is one of Indonesia's most picturesque regions and is made up of more than 1,500 islands, hosting over 1500 species of fish, 537 coral species, and around 700 different types of mollusc. Kiersten certainly enjoyed the diving on offer; completing 28 dives and experiencing a variety of marine life at different dive sites.
'My time in the Banda Sea was in a class of its own. A few of my favorite dives were Manuk Island or "Bird Island", where there are hundreds of sea snakes, and in Ambon, where you'll find world-class muck diving'
There was also time to explore the lagoons of Raja Ampat via speedboat and kayak during her liveaboard safari. Excursions days included speedboat trips to snorkel smaller reefs and enjoy pristine white-sand beaches.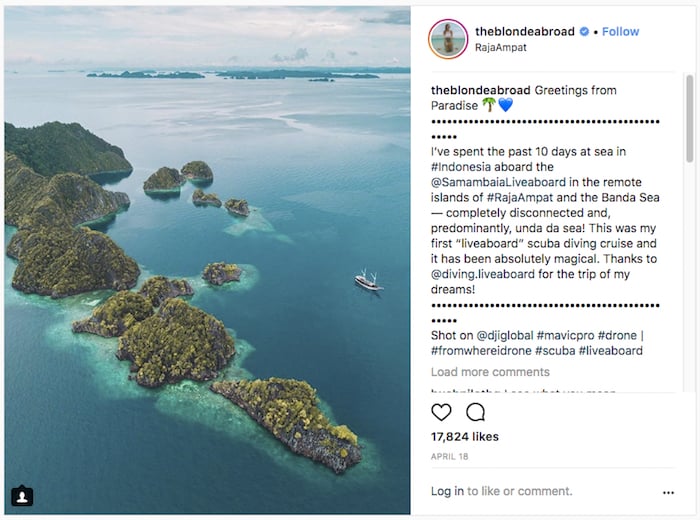 Kiersten has shared her Raja Ampat diving adventure and some great tips about what to expect on a diving liveaboard trip on The Blonde Abroad blog.
Judging by how much Kiersten enjoyed her time on the MV Samambaia we think she'll be joining more liveaboard safaris in the future.