SS Thorfinn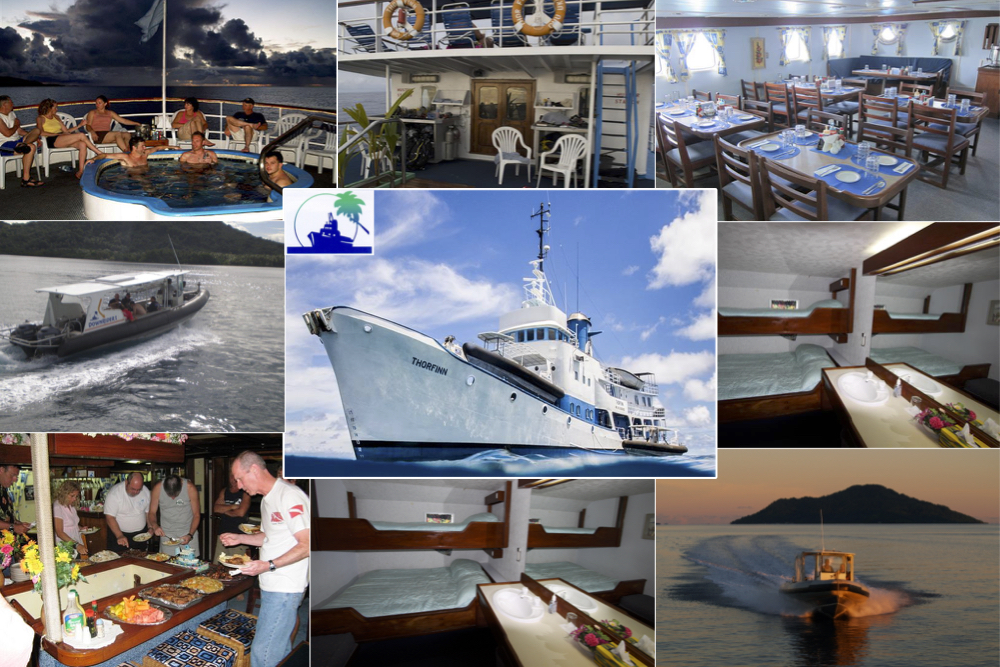 The SS Thorfinn is setting the standard for dive liveaboards in Micronesia, offering luxury, comfort and many guest amenities aboard this 58m custom-built dive liveaboard. Catering to a maximum of 22 guests on board, the SS Thorfinn has 9 standard guest rooms and one suite – Thor's Lair. Each of the standard guest rooms have full length closets, in-room vanities, TV's and DVD Players. The exclusive luxury suite – Thor's Lair – is two former main deck cabins which are now one large cabin with a king size bed with adjoining bed settee, 44inch TV, 4 view windows, walk-in wardrobe mini-bar fridge and large en-suite bathroom.
Guests will find plenty of areas to relax and socialise spread out over 3 decks.
On 'C' deck guests can lounge in comfort in the large indoor salon with bar, 50inch LED TV and DVD player with surround sound and extensive library with fish ID books. The lounge then leads onto n to the 'Spa Deck' which is home to the 12-person hot tub. The 'C' deck is also a great place to unwind at the end of the day with a refreshing drink and to enjoy the amazing stars on full view.
Located on 'D' deck is the dining lounge which provides ample seating for 22 guests, and is also home to another library.
The all important Dive Deck is where the action happens. Large rinse tubs allow gear to be washed easily, and for the photographers on board there are 2 large three-tiered camera tables with charging stations and compressed air guns for camera equipment maintenance. Separate port & starboard embarking stations allow easy entries for 2 dive groups at a time to collect their personal dive gear and board the 2 dive launches without crowding each other. Each of the two state of the art 10m dive launches further add to the ease of diving with SS Thorfinn. Custom fitted with under-seat gear storage bins, easy access dive ladders, camera shelves and numerous safety features, as well as fresh water showers and fresh towels for after the dives, everything has been thought of to make life easy from start to finish.
The SS Thorfinn is a 'Green Ship', totally Eco-Friendly as it utilises the Island power plant waste lubes as its main heating fuel under boilers which are driving the steam propulsion system.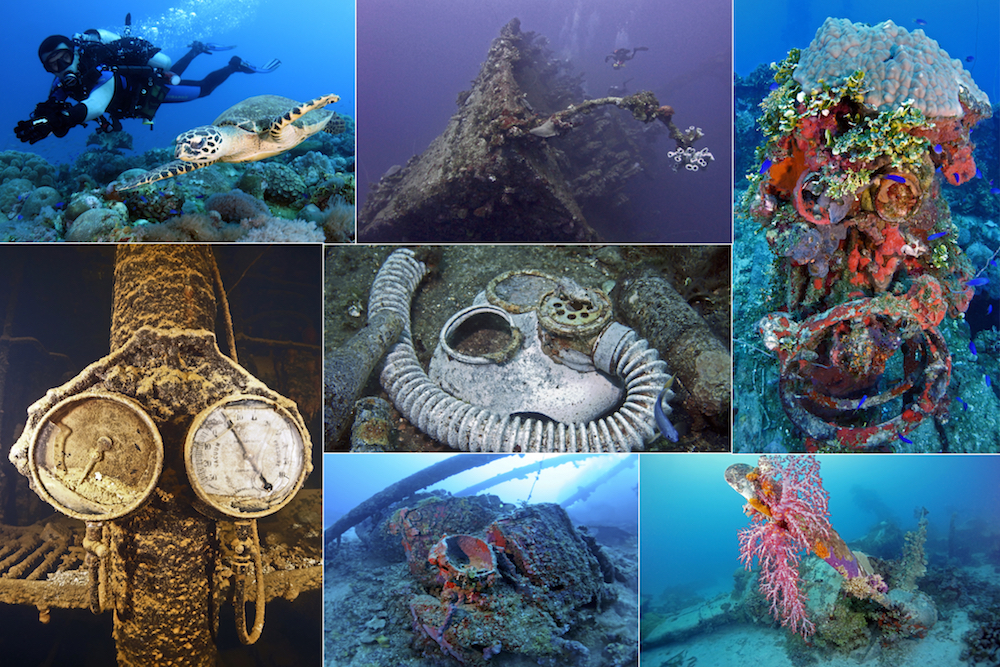 Itineraries
Scuba diving Chuuk (Truk) Lagoon is a mecca for wreck diving enthusiasts. With hundreds of World War II shipwrecks to explore, Truk not only offers amazing sights to be seen underwater but a rich history that goes along with it. There are fascinating dives to be done on these wrecks that have now become reefs, many of which still have the original war artefacts still on board.
One of the many benefits of exploring Truk Lagoon by dive liveaboard is the opportunity to explore the often-overlooked outer reefs. These offer a huge variety of fish life, with pelagic sightings and cascading coral walls disappearing into the depths. Don't forget to keep an eye out to the blue to see if something bigger is passing by!
Divers can expect to complete up to 5 dives per day aboard the SS Thorfinn, meaning you really get to make the most of your time in Truk Lagoon.
Tech divers
Diving Truk Lagoon is perfect for Tech & Rebreather divers, and Thorfinn is perfectly geared up to take care of this. On top of the 'Sunrise Plan', which is aimed at recreational divers and includes free nitrox, the SS Thorfinn also offers 2 additional packages, based on different needs.
Rebreather divers can choose the 'Rebreather Plan' which offers continuous daily diving within safe profiles, free custom twin rebreather cylinders filled with air diluent and oxygen, 20kg of soft lime weekly and extended deep schedules with an experienced local guide for groups with experience. Helium is also available on advanced request.
Alternatively, the 'Truk Tek Unlimited' package is also on offer and perfect for experienced tech divers who want to dive deeper & longer. This package offers freely supplied side-mount cylinders, manifold twins, stage cylinders and pony bottles for continuous diving within safe profiles, and free cylinder fillings in set stages of oxygen blends of up to 93%.
Whatever your experience or certification level though, the diving of Truk Lagoon and the crew of SS Thorfinn can cater to all levels.
Meet the Crew
The experienced and professional crew of the SS Thorfinn are ready to make your dive vacation in Micronesia a memorable one. Having explored the Micronesian waters since 1982, the SS Thorfinn truly knows the area. The crew is made up of 22 island staff, which provide a cheerful 1:1 crew to guest ratio. This includes a highly experienced dive crew, maintenance staff, full-time hostesses and 2 on-board chefs. The dive crew are highly trained and will take care of your dive gear and precious camera equipment so you don't need to worry about it. Many of the dive guides have been with Thorfinn for over 15 years, and are ready and waiting to show you the best dive sites in Truk Lagoon.