Shark Week

COMPETITION
It's Shark Week time and we have the ultimate competition for shark fans!

Subscribe to our newsletter and be in to WIN a 6-night Guadalupe Great White Shark cage diving safari worth $3250 USD.

This is your chance to get up close and personal with great white sharks at the world's premier cage diving destination, Guadalupe Island in Mexico. Often visited by Shark Week film crews, this destination is famous for calm, crystal clear waters and some of the largest great white sharks in the world.

The beautiful custom-built Nautilus Belle Amie could be your home for 6 nights as you get to know some of the 206 great white sharks found at Guadalupe. With options to cage dive at the surface or at depth in the submersible cage, this liveaboard safari is every shark lover's dream.

Don't miss out on your chance to win, subscribe to our newsletter today!
SIGN UP TO OUR NEWSLETTER TO ENTER THE COMPETITION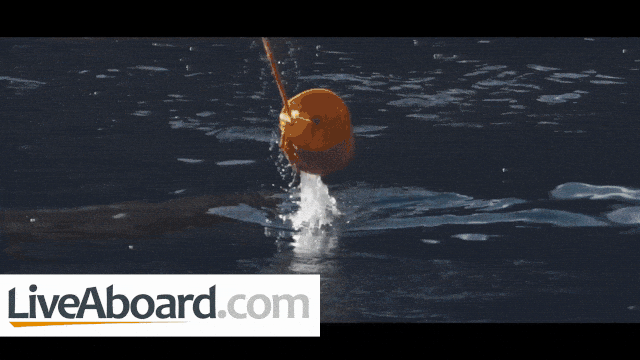 Guadalupe Island Great White Sharks
Nautilus Belle Amie
1 berth in a shared stateroom
Departing: 29th August 2018
Departure Port: San Diego
Duration: 7 days / 6 nights (approximately 15 shark dives in total)
Experience level: Open Water – No minimum logged dives required"
TERMS AND CONDITIONS:
The closing date is 28 July 2018.
Winner will be randomly selected.
To enter the competition you agree to receive newsletter content from LiveAboard.com.
The trip excludes flights, visa, wetsuit rental, Marine Park fees and any onboard extras.
WHAT IS SHARK WEEK?
Discovery Channel's Shark Week is a popular annual TV event which features 8 days of shows all about sharks. If first premiered on 17th July 1988 and was originally produced to promote shark conservation.
It is hugely popular in the US, is broadcast in over 72 countries, and is the longest-running cable television event in history.
Shark Week hasn't been free of controversy though and has been criticised in recent years for being fictitious, entertainment-focused, and for producing fake stories. In early 2015, the president of Discovery Channel vowed to remove misleading programmes from future Shark Weeks.
Like it or not, Shark Week is here to stay and is doing a great job of getting people around the world interested in sharks.
WHEN IS SHARK WEEK 2018?
Shark Week 2018 begins on 22nd July 2018 and runs until Sunday 29th July 2018, providing eight days of shark-filled shows. Shark Week 2017 included 18 specials and the line-up for Shark Week 2018 has more than 19 hours of shark programmes.


WHAT IS SPECIAL ABOUT SHARK WEEK 2018?
Shark Week 2018 marks the 30th anniversary of Shark Week and is sure to be one of the best, with Discovery Channel going all out to celebrate. They have even created a limited edition Shark Week Box for fans to purchase online and enjoy during the event.


SHARK WEEK 2018 LATEST NEWS
Discovery Channel teased Shark Week fans with a promo featuring Shaquille O'Neal, mistaking Shark Week as 'Shaq Week' when they announced the start date of Shark Week 2018.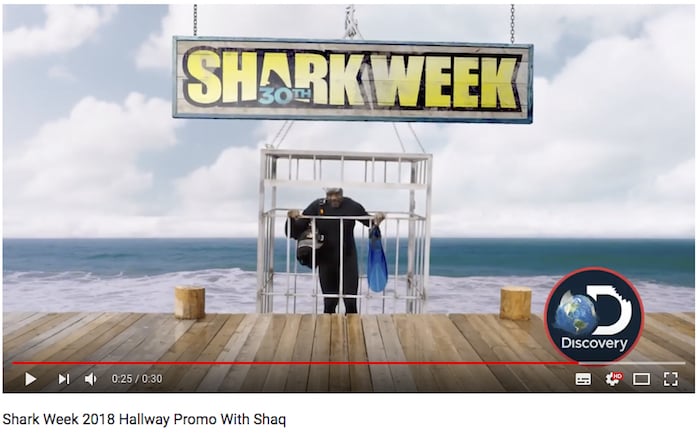 See the promo movie on YouTube
A Shania Twain promo has since been released on 5th June 2018, gearing up fans for the big event.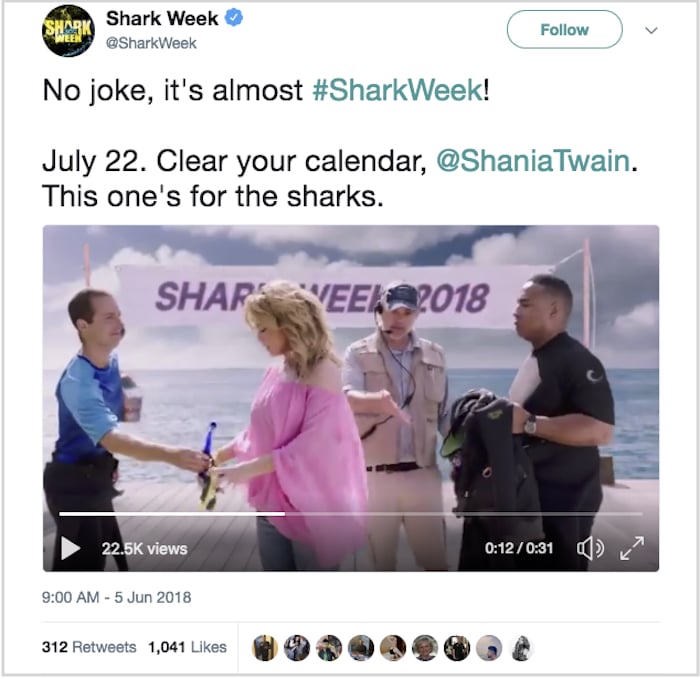 See the video on Twitter
SHARK WEEK 2018 TV SCHEDULE
Discovery Channel has released the Shark Week 2018 programme schedule and it will include a number of Shark Week specials:
Shark Tank Meets Shark Week
The celebrity investors of ABC's hit show Shark Tank will take to the water for Shark Week and go swimming with sharks to learn about the issues they face. The celebrities will each pair up with an oceanic organisation and decide which charity to award $50,000.
Cuba's Secret Shark Lair (working title)
One of the largest sharks ever recorded 'El Monstruo' was captured in Cuba in 1945 and huge shark sightings around Cuba have continued since then. One of the main attractions when scuba diving Cuba is the sheer diversity of sharks and Cuban waters are home to around 100 shark species. Researchers for this show are searching for large great white sharks and hammerheads in Cuban waters.
Great White Abyss
Guadalupe Island, Mexico is well known as the premier destination for cage diving with sharks and is visited by massive female white sharks during October and November each year. The Shark Week team returns to Guadalupe Island this year to search for the biggest great white sharks they can find.
Tiger Shark Invasion (working title)
Shark scientist Dr. Neil Hammerschlag heads to the Galapagos Islands to observe how tiger sharks, new to the area in the last 10 years, are affecting the marine ecosystem at this world-class diving destination.
Monster Tag (working title)
The New England Patriots tight end Rob Gronkowski is joined by Green Bay Packers quarterback Aaron Rodgers and Olympic skier Lindsey Vohn for this special. The team of athletes joins marine biologists working hard to conserve sharks with the latest satellite technology.
Jaws in Paradise (working title)
The Bahamas is well-known for Tiger Beach liveaboard diving and the chance to get up close and personal with numerous tiger sharks. The Shark Cam returns in 2018, this time investigating the private lives of bull and hammerhead sharks in the Bahamas with Doc Gruber and Dr. Tristan Gutteridge of the Bimini Shark Lab.
Son of Jaws (working title)
Dr. Craig O'Connell, a shark scientist and Shark Week host, goes in search of giant great white sharks off Long Island, New York. This iconic area gave rise to the legendary Jaws and the big sharks in the area were hunted and killed after the film's release. Dr. O'Connell finds out if "the bloodline of Jaws continues".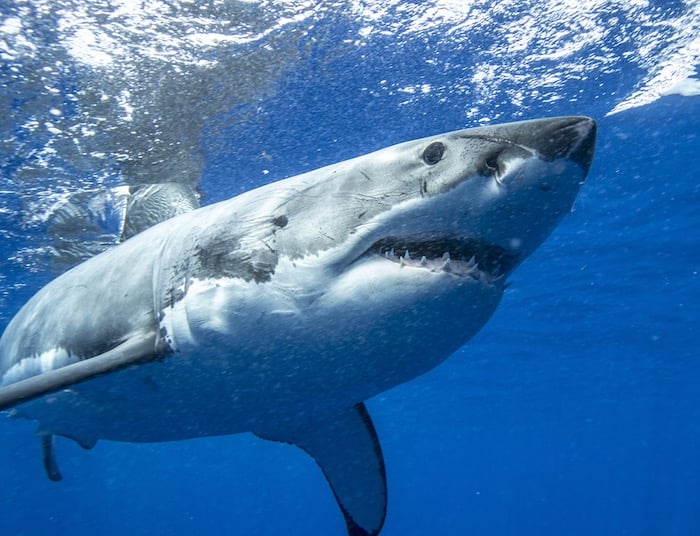 Great White Shark - Photo courtesy of America's Shark Boat MV Horizon.
Divers can join Shark Week's Dr. Craig O'Connell for two special Guadalupe liveaboard diving safaris in October 2018, hosted aboard America's Shark Boat MV Horizon.
Bear vs. Shark
Bear Grylls has survived some of the world's most extreme environments. This time he is going up against sharks to test his skills as the ultimate survivor.
Air Jaws vs. Orca (working title)
Five great white sharks washed up dead on South African beaches in 2017, confirmed as eaten alive. Shark biologist Alison Towner and conservationist Chris Fallows investigate if two well-known orcas Port and Starboard have taken to hunting great white sharks and what can be done to save the great white sharks from being wiped out by this ultimate predator.
Sharkwrecked (working title)
Shark attack survivor Paul de Gelder joins a marine survival expert in a daring 48-hour experiment to discover which sharks are attracted to humans in distress and what really happens when a shipwreck occurs amongst sharks.
The Laws of Jaws (working title)
Are shark attacks the result of shark behaviours or human behaviours? A team of expert divers investigate why shark attacks occur, by re-enacting real-life incidents in real-time.
Uncaged: Shark vs. Ronda Rousey
Ronda Rousey, the WWE Superstar, goes diving with mako sharks in New Zealand.
Great White Mama (working title)
Where do the pregnant great white sharks of Guadalupe Island go to give birth to their pups? Dr. Mauricio Hoyos believes they go to Baja California. This western state of Mexico is a popular dive destination thanks to abundant schooling hammerhead sharks, whale sharks, and giant manta rays. Dr. Hoyos's team of scientists track pregnant great white sharks to confirm a birthing ground in need of protection.
WHERE CAN I WATCH SHARK WEEK 2018?
Shark Week episodes are available to purchase and view online through Amazon and iTunes. Shark Week episodes are also available on the Discovery Channel website for cable subscribers.
DIVE LIKE EVERY WEEK IS SHARK WEEK
To really live the Shark Week experience, it's time to go shark diving and find out for yourself what all the fuss is about. There are great shark diving destinations around the globe, with something suitable for all diver experience levels and even non-divers. Find out more in Best Places to Dive with Sharks.