The Best Places To Dive With Tiger Sharks
Few things are as exhilarating as shark diving and tiger shark dives are high on the wish list for many scuba divers. Being in the water with these sharks is an experience not to be missed.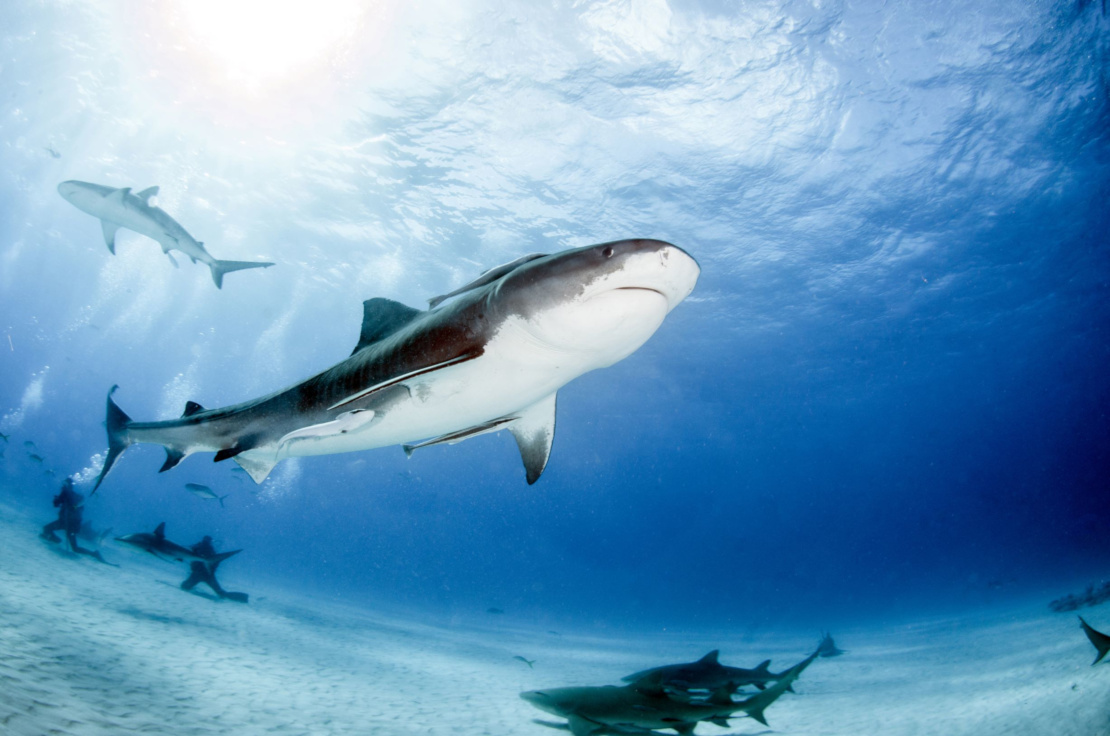 Are Tiger Sharks Dangerous To Divers?
Tiger sharks are large, growing up to 5 meters (17 feet) long, and they are laid-back and curious sharks to dive with. They approach divers closely and offer fantastic photographic opportunities.
Tiger sharks have a reputation as dangerous because this shark species is responsible for more shark bite incidents than most other species of shark. However, sharks rarely bite humans and the risk of ever being bitten by a shark is extremely low. Sharks are not an immediate threat to divers. They deserve a high level of respect though and inexperienced divers may or may not be ready for the rush of tiger shark diving.
Where Can I Dive With Tiger Sharks?
The most well-known place to go tiger shark diving is the aptly-named Tiger Beach, Bahamas. There are also a variety of other destinations around the world where you can encounter and dive with tiger sharks.
Tiger Shark Diving Bahamas
Tiger shark diving at Tiger Beach is one of the best tiger shark dives in the world. This destination is a must for tiger shark diving fans, offering crystal clear waters and numerous tiger sharks to dive with. It is the most reliable spot in the Bahamas for shark encounters and consists of a shallow sand flat, an hour away from Grand Bahama Island. Tiger Beach is not just known for tiger shark diving, but also for shark dives with Caribbean reef sharks, lemon sharks, nurse sharks, great hammerheads and bull sharks.
Tiger shark diving at Tiger Beach is an easy and comfortable experience; with divers sitting on the sandy bottom as they watch the shark action happening around them. The number of sharks seen varies from 2 to 15 sharks and the tiger sharks are present all year at Tiger Beach.
The best time to dive Tiger Beach is from October to January, as it is shark breeding season. July to August has the least amount of sharks.
Some dive companies require divers to have Open Water certification and at least 30 logged dives to dive at Tiger Beach. The Bahamas Aggressor offers Bahamas Tiger Beach safaris and requires Open Water certification with no minimum logged dives.
Tiger Shark Diving Fiji
Known as the soft coral capital, Fiji is a picture-perfect paradise with exceptionally colourful coral reefs and a variety of large pelagic species to enjoy, including tiger sharks.
Shark encounters are practically guaranteed in some areas of Fiji and there are a variety of opportunities to encounter sharks. It is possible to dive with tiger sharks and bull sharks at Beqa Lagoon, plus encounter hammerheads, silky sharks, grey reef sharks, whitetips and blacktip reef sharks, and even whale sharks when scuba diving Fiji.
Diving with sharks in Fiji occurs all year, though there are fewer bull sharks present during November and December. April to October offers the best visibility, upwards of 40 meters. The summer months have plankton blooms and bring in other larger pelagics such as mantas and whales.
The best way to experience Fiji's sharks and explore the islands is by Fiji liveaboard diving. The Fiji Aggressor offers year-round safaris to the best dive sites of Fiji. Fans of tiger shark diving should make sure they dive with the tiger and bull sharks of Beqa Lagoon, Fiji before or after their liveaboard safari.
There is diving suitable for all experience levels in Fiji.
Tiger Shark Diving Hawaii
Hawaii is a fantastic destination for combining tiger shark diving with experiencing underwater lava landscapes, lush coral gardens and marine life species found nowhere else.
The best place to dive with tiger sharks in Hawaii is off Oahu. Tiger sharks visit Oahu in huge numbers during Autumn each year, from September to December.
Other Hawaii scuba diving highlights include night diving with manta rays at Kona, the YO-257 and San Pedro wrecks of Oahu, plus the famous Hawaiian North Shore dive sites such as Shark's Cove and Three Tables. The Molokini Crater and dive sites of Moloka'i are not to be missed and offer encounters with sharks, manta rays, whales and rare Hawaiian monk seals.
The best time to visit is during winter, to enjoy tiger sharks and also humpback whales as they migrate through the area. The Kona Aggressor II offers Kona Exploration liveaboard safaris.
Hawaii scuba diving is suitable for all experience levels.
Tiger Shark Diving Mexico
Mexico liveaboard diving is very popular with divers looking to experience some of the ocean's largest marine life; from giant manta rays to humpback whales, blue whales and more. It is also a great destination for shark diving at Socorro.
Punta Tosca, off Socorro Island, is one of the best places in the Socorro Islands (also called the Revillagigedo Islands) to see tiger sharks. Even if you don't see a tiger shark, diving Socorro is exceptional in itself for the sheer variety of large marine life. You can see hammerheads, whitetip reef sharks, silky sharks, whale sharks and more.
The best time to dive really depends on what you want to see. November to May brings calm seas, with whale sharks present during November and December, and humpback whales present during January to April. May to July brings bait balls to the area, resulting in more sharks at the dive sites of Socorro. The presence of tiger sharks is less easy to predict so be sure to head to Punta Tosca for your best chance to dive with tiger sharks.
The Nautilus Fleet offer a variety of Mexico liveaboard diving safaris, including to Socorro Island. The Socorro Islands are best enjoyed as an advanced or experienced diver.
Tiger Shark Diving French Polynesia
French Polynesia is well off the beaten track and Polynesia liveaboard diving offers stunning atolls, clear blue waters and remote diving opportunities. This area is home to one of the largest atolls in the world, with plenty of opportunity for shark diving.
Rangiroa atoll, within the Tuamotu Archipelago, stretches across 170 square kilometers and is famous for its Tiputa Pass. This channel into the atoll gets washed by a very strong current during the incoming tide and offers the chance to dive with tiger sharks, huge schools of grey reef sharks, hammerhead sharks and bottlenose dolphins.
Garaue Pass at Fakarava atoll is one of the best places to see sharks in the entire Tuamotu Archipelago. There are numerous grey reef sharks, plus tiger sharks and manta rays to dive with. This pass is 1600 meters wide and receives such a strong current it can only be dived at slack tide.
French Polynesia diving is available all year. Grey reef sharks are resident to the area, whereas hammerheads and eagle rays visit in high numbers from December to April.
The French Polynesia Master and Aqua Tiki II offer safaris to different areas of French Polynesia, including to Rangiroa and Fakarava.
Tiger Shark Diving Maldives
The Maldives is well known as a top shark diving destination to experience whale sharks, hammerheads and of course manta rays. Few people realise it is also a great place to dive with tiger sharks whilst exploring the remote atolls of this stunning part of the world.
Fuvahmulah atoll is in the Deep South of the Maldives and offers the chance to dive with numerous tiger sharks and even thresher sharks. This isolated atoll has pristine reefs and over 20 dive sites to explore and is accessible during southern atoll liveaboard diving. It is a relatively unknown dive destination with resident tiger sharks and is just waiting to be explored by adventurous divers.
The best time to visit is from December to March. There are a variety of Maldives liveaboards to suit all budget and preferences. The Carpe Vita and Duke of York liveaboards offers Deep South itineraries that visit the top Maldives shark diving destinations.
Egypt is also good for tiger shark encounters. Tiger sharks are seen at Elphinstone, Daedalus and St Johns when diving Egypt. Southern Sharks safaris offered by the Emperor Asmaa liveaboard are a great way to experience the sharks of southern Egypt.
The Saratoga wreck at Bikini Atoll in the Marshall Islands is one of the few wrecks in the world with numerous sharks, including reef sharks and tiger sharks. Diving this wreck is not for the faint-hearted and is only possible for tec-wreck divers. The Truk Master offers Bikini Atoll safaris during May to July each year.
Where Are The Best Places To Dive With Sharks?
Are you looking for other top shark diving destinations or different species to dive with? Be sure to check out our Best Places To Dive With Sharks and Where To Cage Dive With Sharks.