Experience Cocos Island at 300m deep with the DeepSee Submersible
Have you ever wondered what lies in the deep ocean? Well, wonder no more, as you can experience deep-sea submersible diving at Cocos Island with the Argo and Sea Hunter liveaboards.Cocos Island, a world-famous UNESCO World Heritage Site is known for exceptional marine life encounters, including huge schools of scalloped hammerhead sharks.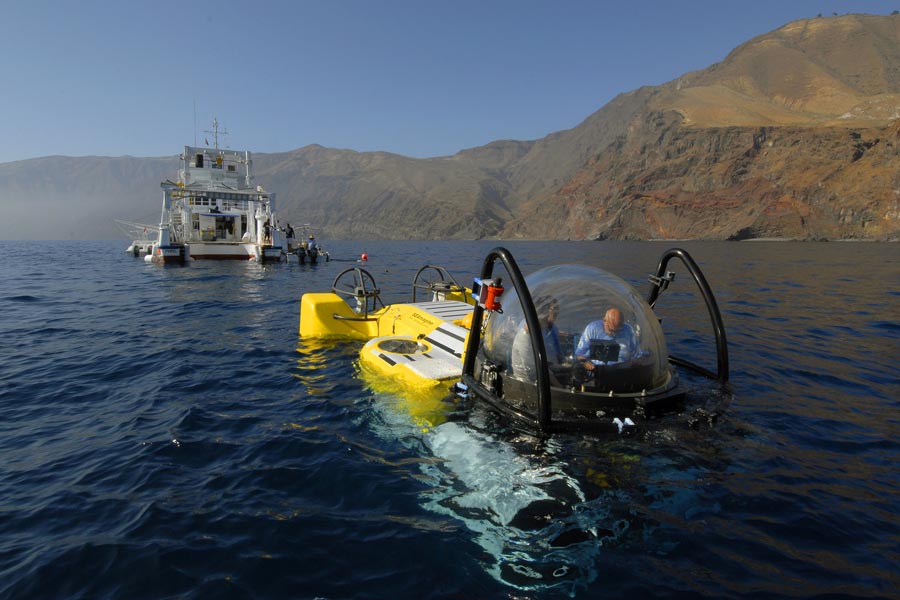 This ever-popular liveaboard diving destination is even better when experienced from the Sea Hunter and Argo's DeepSee submersible.Once used by National Geographic, the DeepSee is available for your own deep-sea diving adventure at Cocos Island. Descending up to 300m deep, you can see for yourself what lies far, far below the surface.
This unique submersible is so popular that some people join the Sea Hunter or Argo just to go deep-sea diving.
Safety comes first on the DeepSee submersible
Diving hundreds of meters down in the ocean can be daunting, but it isn't with the DeepSee submersible.Safety is the first priority and your submersible experience begins with a thorough safety briefing, with time for you to ask any burning questions.You'll quickly learn what to do in the unlikely case of an emergency, though you needn't be concerned.The submersible is positively buoyant, meaning that if there is a problem the submersible automatically ascends to the surface.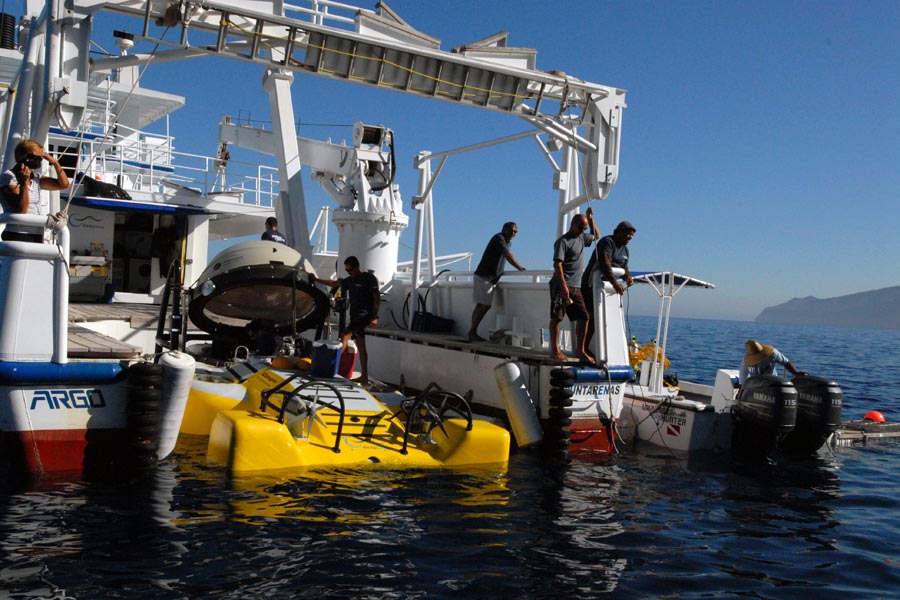 For additional safety, a boat always stays on the surface during the submersible dive and your driver will be in constant communication with that surface boat.Your comfort is also a priority and the submersible is air-conditioned and ventilated. You'll be provided with water and snacks during the dive.
Enjoy uninterrupted views of the ocean around you
Sitting in the submersible is a little like being in a goldfish bowl but a lot more interesting!There are just three people inside; two passengers and one driver behind the passengers.Sitting up front, you have a perfect uninterrupted view of the ocean, enhanced by the acrylic glass dome design.Once you're comfortably seated you can watch as a frogman jumps in the water and double-checks everything is in order before you descend. It's a great time to test your camera.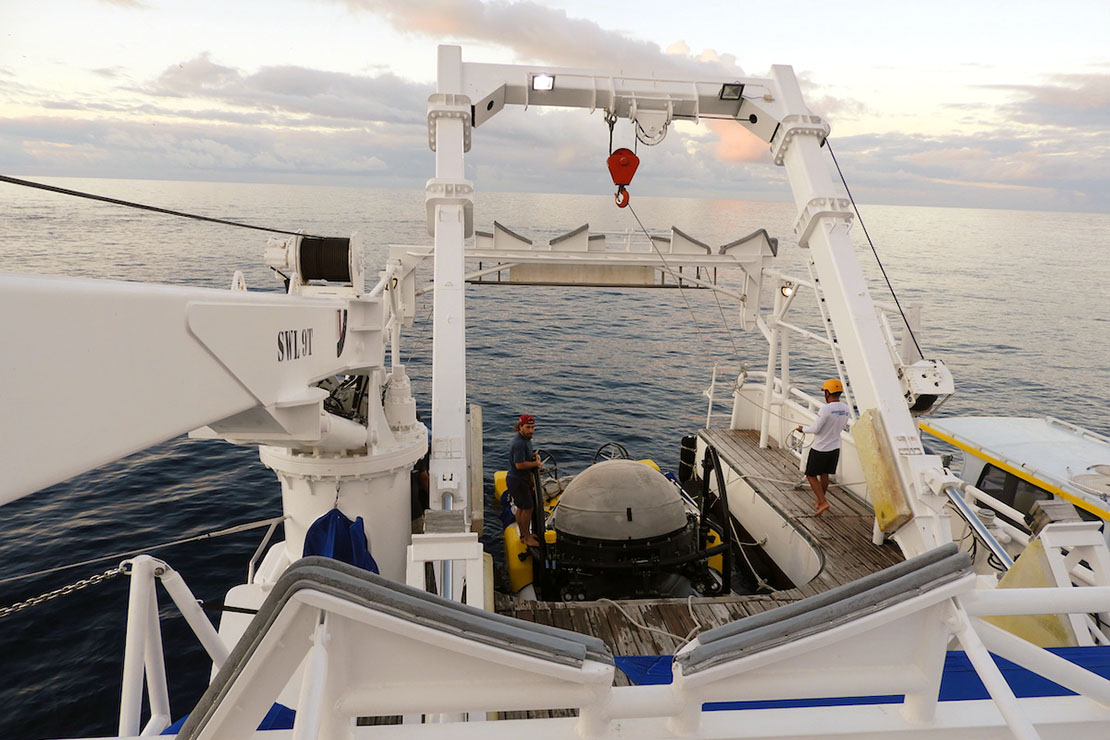 There are no wires linking the submersible to the surface, adding to the feeling of a true adventure as you begin your discovery of the deep.
Dive With Schooling Hammerheads: Browse Cocos Island LiveAboards »
Dive to 90m or 300m deep? It's your choice
The DeepSee's eight engines and eleven lights allow for great manoeuvrability and visibility during your dive.Which is just as well given you'll be descending to one of two dive sites; Everest at 90m or The Wall at a huge 300 metres deep.When you're diving in the DeepSee submersible it's easy to forget you're even in a submersible.
The 3.3-inch thick glass dome has the same density as water, meaning you have to touch the glass to know it's there. Otherwise, it's invisible to your eyes.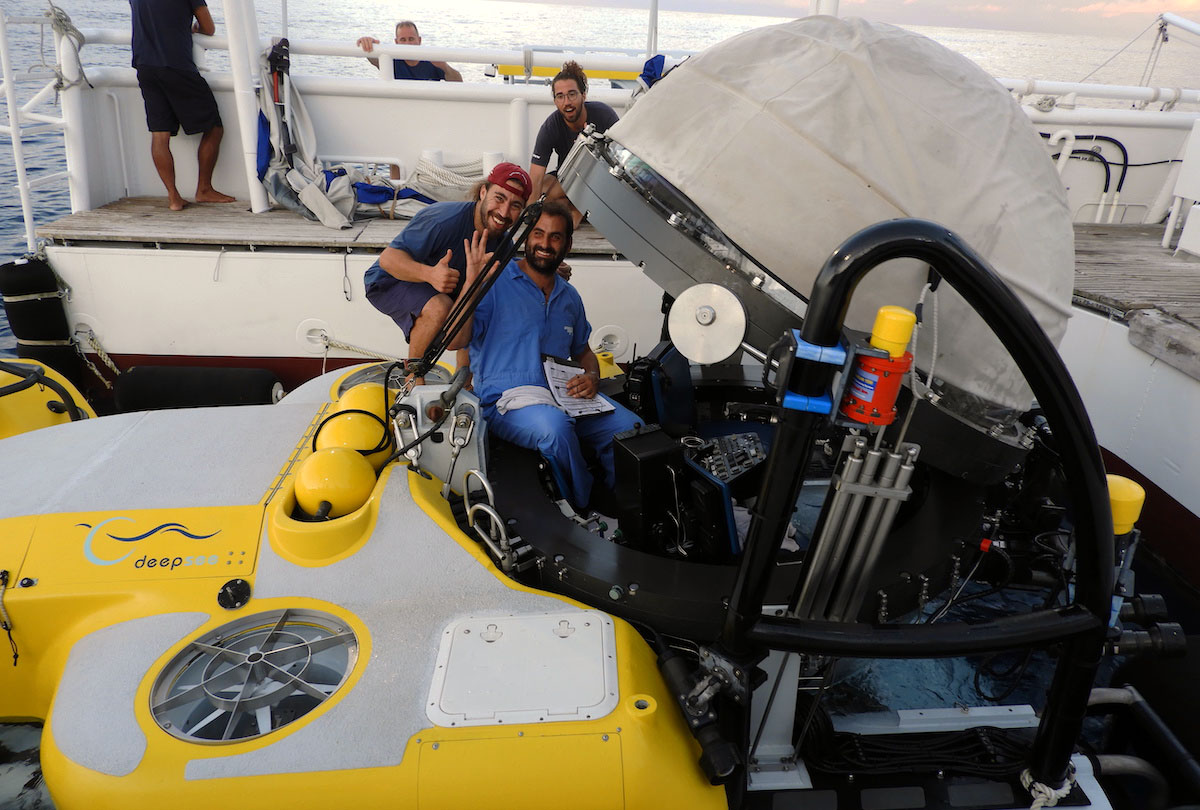 Get your camera ready for the dive of a lifetime
You'll want to take a camera with you to capture the marine life and landscapes the submersible highlights.Thankfully all cameras work on this submersible and the wider the angle, the better.If you don't want to take a camera, that's not a problem. There is a camera behind you in the submersible which captures high-quality images throughout your dive.
You will be provided with a copy of these images free of charge, as well as a free t-shirt to commemorate your DeepSee dive.
Read more: 7 Reasons Your Next Cocos Islands Dive Safari Should Be With the Sea Hunter or Argo »
What is it like diving in the deep?
It's easy to lose track of time as you say goodbye to the surface, then descend to 200 metres and reach a sandy bottom.Make sure you keep looking around you at this point, as hammerheads and Mobula rays are sometimes seen on the way down.Having no idea where the glass is can be confusing but you'll be shown how to use your little finger to find the glass before you bump your camera lens on it.You'll soon get the hang of it ready for when you reach an edge; a black line in the water.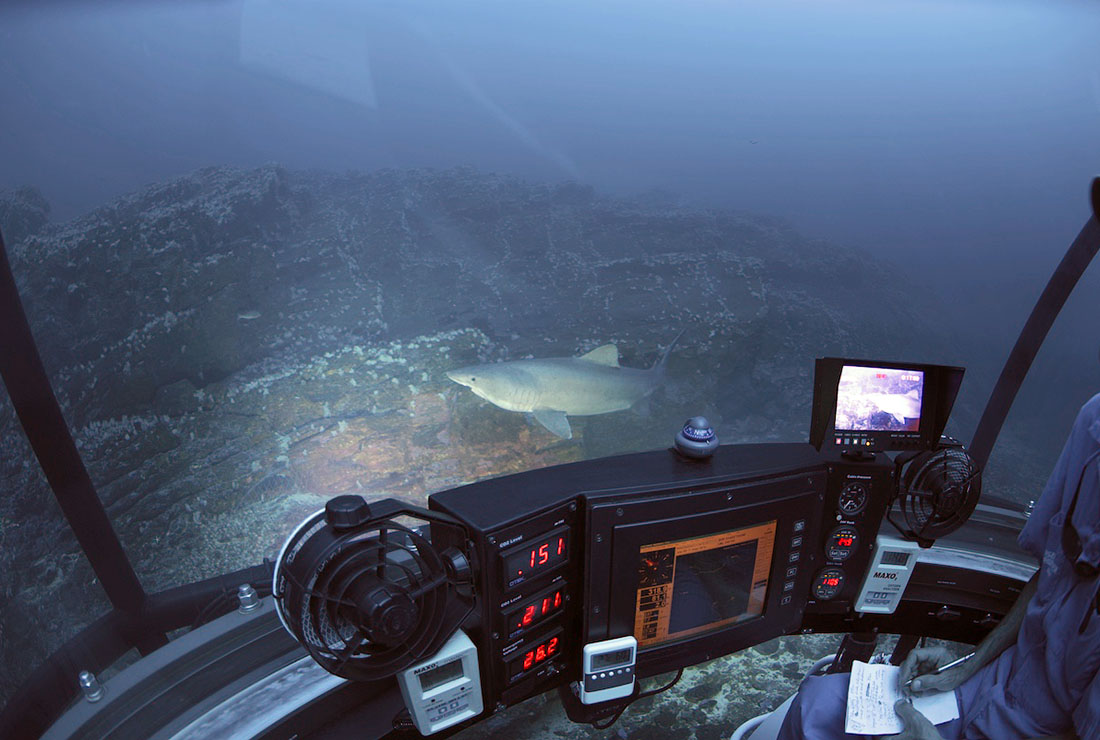 Everything becomes black as you go over that edge, which turns out to be the top of The Wall. Turning to face this wall you'll continue dropping down alongside it. There are different species of fish to spot on the wall, including groupers, plus nudibranchs, frogfish, starfish, crabs and numerous other types of marine life.Once you reach 300 metres, you'll have time to take in the scenery around you before ascending to the surface world once more.
After alighting back on your liveaboard, you'll have the chance to join a Shark ID workshop to discover what sharks you may have seen during your dive.If you want to go diving before or after your submersible dive, that's absolutely fine.Thanks to the lack of pressure change, you don't need to take time out for a surface interval.
DeepSee Submersible Prices
The Wall
Depth:

300m

Price:

Price: 1850 USD (as of 2019)

Duration:

2 hours
Everest
Depth:

90m

Price:

1450 USD (as of 2019)

Duration:

Duration: 1.5 hours
DeepSee Booking Procedures
Divers on the Argo can participate in a DeepSee dive at any time during their Cocos Island liveaboard safari, as the submersible is stored on the Argo.If you are joining a Sea Hunter Cocos Island liveaboard safari, it is best to book your DeepSee dive beforehand to ensure the submersible is available for you:
The Sea Hunter and Argo do not have the same trip dates, so the available time to do a DeepSee dive from the Sea Hunter is limited to 3 to 4 days during your safari.